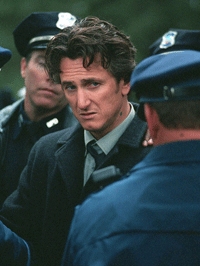 There is little doubt in my mind I am going to take some heat this week, so let's kick it off right away with my belief that Sean Penn deserved his Best Actor Oscar for "Mystic River," a performance of overwhelming ferocity and staggering emotional power.
Yes, I too loved Bill Murray in "Lost in Translation," and would have loved to have seen him win, but he didn't, and frankly he lost to a stronger performance (in my opinion). I know it is a cliche to say the nomination is the reward, but I would hope that Murray would be happy with that.
But there were so many great male performances in 2003!
Robert Duvall was superb in "Open Range" as the wily old rancher who ends up in a gunfight for his life with his friend, played by the also fantastic Kevin Costner, by his side. Tom Cruise gave a great performance in "The Last Samurai" for director Edward Zwick, while Russell Crowe was again brilliant in "Master and Commander: The Far Side of the World," adding to his string of stunning performances.
Paul Giamatti was criminally ignored (the first time) for "American Splendor" while William H. Macy suffered the same fate for "The Cooler," a daring and fine performance from a veteran character actor.
You've got to like that the Academy had the guts to nominate Johnny Depp for his wonderfully inventive performance in "Pirates of the Caribbean: The Curse of the Black Pearl" because that was an example of pure actor's genius and creation.  I also admired Jude Law's performance in "Cold Mountain," a film much better than it was given credit for.
Ben Kingsley was riveting in "House of Sand and Fog," earning his nomination, but without Jennifer Connelly he does not get there and curiously she was snubbed. There was very strong support for Jack Nicholson in the wonderful comedy "Something's Gotta Give" but all the love for that film went to Diane Keaton.
And I will end my Best Actor rant with the fact Sean Penn could have also been nominated for "21 Grams."
Where was Scarlett Johansson for "Lost in Translation?" How did this splendid performance opposite Bill Murray get ignored when Murray and Sofia Coppola and that great screenplay were nominated?  Would Murray have given that performance opposite another actress? Doubtful, because the chemistry between the two of them was perfect. PERFECT.
How would anyone have bettered the astonishing performance Charlize Theron gave in "Monster?" It was a performance Roger Ebert called "among the greatest in the history of the cinema."  Her closest competition was likely Diane Keaton in "Something's Gotta Give" or Naomi Watts in "21 Grams." Though Samantha Morton's nomination for "In America" was deserving, she had no chance, nor did Keisha Castle-Hughes in "Whale Rider."
I was stunned Nicole Kidman was not nominated for "Cold Mountain" as it is perhaps the actress's best performance! Evan Rachel Wood gave a searing performance in "Thirteen" but the Academy did not notice, nor did they find Jennifer Connelly worthy of a nomination in "House of Sand and Fog."
Hope Davis was once again on the out looking in, ignored for her sublime work in "American Spelndor" with Paul Giamatti. Much was made of Uma Thurman's excellent physical performance in "Kill Bill: Vol. 1" and she was deserving of a nomination.
The supporting actor category was loaded with strong performances, but also those left off the list could have easily filled another category entirely. For me the most glaring omissions were from "The Lord of the Rings: The Return of the King" where both Viggo Mortensen and Sean Astin deserved nominations for the final film, bringing to it great heart.
And Sean Astin, my God, when he carries Frodo as he has in some sense the entire trilogy, we realize who the true hero of the film is. Certainly Ian McKellan was deserving for the first of the films, but these two actors dominated the final film with astounding work.
Though Tim Robbins won the Oscar for "Mystic River," his cast mate Kevin Bacon was equally deserving for his performance as a conflicted cop on the hunt for a killer. The great Bruce Dern was outstanding in "Monster" in a small part as a killer's lone human connection, richly deserving of a nomination. Dern is one of those greats who has always been passed over.
Both Jeff Bridges and Chris Cooper could have been nominated for "Seabiscuit," as well as any one of the young actors in "City of God," while Paul Bettany was outstanding in "Master and Commander: The Far Side of the World," at least as good as any one of the five nominees.  Same goes for Albert Finney in "Big Fish."
Of the nominees, I cheered Alec Baldwin's work in "The Cooler," Benicio Del Toro in "21 Grams," Ken Watanabe in "The Last Samurai" and Djimon Honsou in "In America," though there was little doubt that Robbins was going to win. However, with a different field, would things have gone differently?
Renee Zellweger was going to win the Oscar from the moment she was cast as Ruby Thewes in "Cold Mountain." It was as sure a thing as Jessica Tandy for "Driving Miss Daisy." The actress gave a rough-and-tumble performance of a woman of little education yet widely knowledgeable in matters of survival. It was a brilliant performance and the best of the nominated turns, though an argument could be made for Holly Hunter's heartbreaking mother in "Thirteen."
As fine as Zellweger was, a strong argument could be made for Natalie Portman's heartbreaking single mother trying to make a life after the death of her husband in "Cold Mountain." The manner in which she tries to make a human connection with soldier Jude Law is extraordinary, deeply moving and finally, tragic.
I loved Laura Linney's chilling wife to Sean Penn in "Mystic River" as the actress created a modern day Lady MacBeth, and I was shocked that she was not nominated. Her cast mate Marcia Gay Harden was for her work in the film as the shell-shocked, terrified wife of Tim Robbins, a richly deserving nomination.
Jessica Lange deserved some attention for her performance in "Big Fish" as did Christina Ricci in "Monster." I was pleased to see Shohreh Aghdashloo nominated as the wife in "House of Sand and Fog" as well as the great Patricia Clarkson in "Pieces of April," a nod no doubt for being looked over the year before in "Far from Heaven."
Hope Davis could have been a nominee for her work in "American Splendor," while the voice work of Ellen DeGeneres in "Finding Nemo" was, I think, Oscar worthy. For her performance in the Oscar-winning Canadian film "The Barbarian Invasions," Marie Jose Croze won an award at Cannes, and the Canadian Genie Award, but was ignored for an Oscar nod.
That's my perspective on the performances of 2003.  What about you?  Have your say in the comments section below!