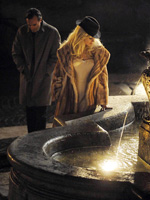 It's one of those things when you show a film early and hold everyone to an embargo for a number of weeks.  I imagine there are people like me who run out of the passion and desire to write about some films, and over the last few weeks, "Nine" has been that film for me.
I discussed the film, of course, with Anne in last week's Oscar Talk and I think I said most of what I would write anyway.  I will say that I'm probably 99.9% in agreement with what David Poland has written, especially his thoughts on casting, Marion Cotillard's final number being one of the few moments of actual emotion in the film, the detriment of a central character's frivolous motives and desires, etc.
Oscars?  I think what you see in the sidebar, for the most part.  I saw the SAG go wild for it, but I also know this is a film that could run into trouble when it comes to resonating.  So a month from now, would the applause be so grand?  I don't know.  Marshall could run into trouble with the directors, unless they just feel like honoring him for knowing how to stage a number (keyword: stage).  Day-Lewis could miss.  Dench could slide in over Cruz, given the more interesting throughline she represents for the main character, etc.
Below the line, of course, nods all the way across.  But it's a real question mark about how this film will ultimately settle when the high of the music is long gone and people are left with their thoughts on what they just saw, and whether it has the substance to keep reminding them.  We'll see.