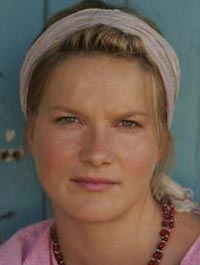 When I begin my phone conversation with Jessica Haines by telling her how insistently I prodded her publicist to set up our interview – the reverse is so often the case – she responds with a bashful laugh. "I can believe that," she says, in a warm South African drawl. "Not many journalists have bothered tracking me down to Tunis!"
Haines sounds endearingly surprised that anyone might be interested in her away from the cinema screen, where she made such a startling arrival this year in Steve Jacobs's "Disgrace" – which opens in the UK today, on the heels of an all-too-brief Stateside run in the fall.
This speaks both to the 30 year-old newcomer's natural humility – if she is aware of just how good she is, she certainly hides it well – and her relative unfamiliarity with the ropes of the industry.
As if to literalize the point of just how far removed Haines is from Hollywood, I learn that she is in Tunisia not, as I had assumed, on some remote location shoot, but for a decidedly simpler reason: it's where she lives, thanks to her husband's banking career.
"I don't really know where to call home at the moment," she says. "My family's in Natal [the East Coast of South Africa], but I studied in Cape Town and do a lot of work in Johannesburg. My husband's job is taking us from Tunisia to Kenya soon. I'm just flying in and out all the time."
Haines's personal sense of statelessness adds a fascinating interpretive layer to her performance in "Disgrace," a superb adaptation of J.M. Coetzee's modern literary classic, and the most undervalued work to emerge from the recent mini-wave of South African stories on film. In the year's most impressive debut, Haines plays Lucy, the headstrong lesbian daughter of John Malkovich's dissolute academic protagonist.
A woman so determined to cling to her own notions of home – specifically, a ragged, isolated Eastern Cape smallholding – Lucy winds up making unthinkable personal sacrifices to do so, in the face of physical and psychological terrorization by black neighbors seeking post-apartheid retribution. It's that devotion to the land that allowed Haines access to a character she found inscrutable in Coetzee's novel.
"At first, I simply couldn't understand the choices Lucy makes, as a woman," she explains. "But playing the role gave me a deeper understanding: what she realizes is that the continual backlash she receives, as a white woman in that country, will never change. The decision she makes to accept her situation is completely selfless, for the land. There's something heroic, something beautifully strong, about that."
Haines is sweetly effusive in person, such a far cry from her stoic, guarded character that she didn't much fancy her chances of landing the role – not least when the likes of Cate Blanchett had expressed interest, and Haines, who had done some local TV work but cites ballet and physical theater as her first loves, had never done a film before.
"It sounds funny, but I felt no pressure whatsoever going into that audition, because I honestly thought I had no chance," she says, still incredulous at her good fortune. "I thought, there is absolutely nothing I have in common with this woman, and they're going to see that straight off. I'm just lucky they saw something in me, and it was a bonus that I was in the country."
Haines may refer breezily to her personal dissimilarity from the character, though she feels it's their mutual affiliation with the film's locale – she was born and raised in the Eastern Cape and speaks fluent Xhosa – that aided her performance. "It's a part of the country that's very dear to me, so her fighting for her place in it was something I could relate to, despite everything else. She has a deep desire for this beautiful country to reconcile, and I share that."
Ironically, Haines's nationality made her something of an anomaly on the set of the Australian production – in addition to the American Malkovich, principal co-stars Eriq Ebouaney and Fiona Press are French and Australian respectively. Haines is unfazed by criticism of the film from South African industry voices – "I'm tired of this argument of 'taking stories' … the stories are there to be taken" – and takes pride in the film's global identity.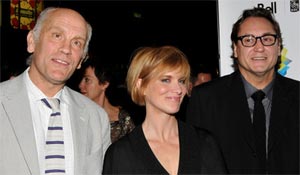 "I didn't dare help John with his accent!" she laughs, as the conversation turns to her esteemed co-star, though she didn't remain intimidated by him for long. "He's a lovely man, and he made a very conscious attempt to embrace the culture. He could have shut me out, but he made it so easy – in the evenings, we'd just listen to Jim Morrison and cook up a pasta."
She pauses a second, then adds wryly, "Of course, it helped that we were in the middle of nowhere, so had no one else to talk to!"
That's Haines's winning South African modesty resurfacing, though she's getting more used to star encounters: she recently finished work alongside Ian McKellen on "The Prisoner," an update of the cult 1960s TV series, as well as with Ryan Philippe and Taylor Kitsch on "The Bang Bang Club," a biopic of the late South African photojournalist Kevin Carter.
Right now, as she prepares for a move to Kenya and hopes the right people see her work in "Disgrace," Haines admits to feeling "a little directionless … I'm not sure what my next move should be." Here's hoping it's upwards.