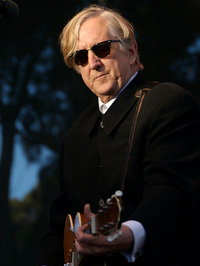 This marks the first of this year's Tech Support interviews series with below-the-line crafts personnel, an annual feature at In Contention.
When Scott Cooper's adapted screenplay "Crazy Heart" was making the rounds a few years ago, it had the kind of soul a guy like T Bone Burnett wants out of a country-western film. But as far as musical accompaniment was concerned, it was a blank canvas.
A close friend of actor Jeff Bridges dating back to their time together on Michael Cimino's "Heaven's Gate," Burnett was the selling point when the actor began toying around with the idea of playing Bad Blake in the film. With Burnett came longtime friend and musician Stephen Bruton. With Bridges came his own longtime friend, John Goodwin. With a modest writers' table assembled (including, of course, Cooper himself), the task then became searching for a voice with an array of original songs for the film.
"There's a Nashville voice that comes really from Lefty Frizelle," Burnett says. "And then Merle Haggard was the next, and there've been hundreds of people who've learned to sing from Merle Haggard and Lefty. Most of the country singers are essentially in that tambour. Jeff is a whole different thing. So we began looking for prototypes, so to speak, and the first prototype to me was Leonard Cohen, who's a great writer and sang with a deep chest voice like Jeff did. Don Williams as well, who was a big country star in the 70s, big and good, too, and very much an individual. So we started looking for those kinds of voices that could be country music."
With the tone in place, Burnett says he and his team set about creating an "alternate universe of country music," completely ignoring everything that's happened in the genre in the last 50 years. "We just stopped the clock at 1960 and then invented a new kind of country music from that place," Burnett says. "It's not that it's a completely unique kind of music as much as it's a different kind of country star."
And, Burnett says, it's fair to say that "alternate universe" is exactly the trajectory he wishes country had taken. Which isn't to say there aren't diamonds in the rough. Like 28-year-old Ryan Bingham, for instance, who's work seems to fit nicely in that alternate vision of country, music conceived out of personal experience rather than by a team of writers in the service of celebrity.
Burnett first caught wind of Bingham in 2006 from the Coen brothers (who Burnett has collaborated with on a number of projects, not least of them being the hit soundtrack to "O Brother, Where Art Thou?"). The Coens were in West Texas filming "No Country for Old Men" with an eye toward a singing cowboy role in another project when they stumbled onto Bingham and his work (then on the cusp of releasing his debut album, "Mescalito"). After that, Burnett says, it seemed he couldn't turn a corner without someone mentioning this bright young talent from Hobbs, New Mexico.
"In life, things come to you in waves," Burnett says. "I had probably 10 people tell me about Ryan Bingham over a period of about six months, starting with the Coen brothers. And everyone was like, 'Ryan Bingham,' I'd hear 'Ryan Bingham.' Now George Clooney is even playing him!" (A joke referencing Clooney's character in Jason Reitman's "Up in the Air.")
When Scott Cooper also suggested Bingham for a small role in the film as a back-up band member for Blake at a bowling alley gig, Burnett finally threw his hands up and decided to give the youngster a listen. And he was blown away, by the honesty of the songwriting and the sense of gravitas and wisdom felt in Bingham's vocals. He says without a trace of hyperbole that he believes Bingham, of all the musicians of his generation, has the most potential to become the next Hank Williams. Fans already feel free to call the former bull rider a new breed Bruce Springsteen or Bob Dylan.  Burnett thought he'd be a nice addition to the team behind the tunes.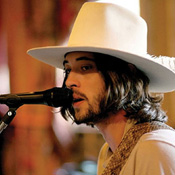 With another member in place, the group set about conceiving the lyrical narrative of Bad Blake's life on screen.
"You're always writing from that place you write from," Burnett says, "so it's all going to come from what you know about music and all of that. In some cases, like I've done some things for the theater where you really do change, because the actors aren't great singers. So you write more in cadences and stories that they can tell, rather than a big melodic kind of tune. But in this case, both of these guys, Colin (Farrell) and Jeff, were easily able to handle the general world of country music. Colin especially was a surprise. He came in and just killed those things, knocked them out really quickly. I guess it all comes from Ireland and Scotland, anyway, so I guess it was a natural transition. Jeff, who's a Southern California guy, went deep to find that place."
Bingham's key role on the project became the penning of "The Weary Kind," a central track that is woven into the narrative itself as Bad Blake sets about writing one more killer tune on his way to sobriety.
"We looked at some of Stephen's other songs, but we hadn't gotten to 'that song,' Burnett says. "There was a song that had to be that good song that Bad Blake's writing all the way through the second half of the movie. It's supposed to be a great song and if it wasn't a great song then everything fell apart. The whole thing became false. So Ryan was cast and he came in and had two or three songs he was starting, and one of them was 'The Weary Kind.' As soon as I heard it I knew. It was obvious that that was the song Bad Blake was writing. It was a great song with a great title that sounded like a Montgomery Clift movie title or something. He and I finished it up."
For Bingham, the life on the road depicted in the film has a ring of authenticity that served as a major inspiration when writing the track. "It seemed like I wrote the song in like two minutes after reading the script," he says, a baby face behind a trimmed jet black beard. "I had been on the road. We were touring quite a bit with my band. I always keep a guitar in my back seat and that motion of the rhythm of the road, just that feeling and that emotion, when I read that script, I said, 'Man, that's it, that's exactly how it's like.' It came together pretty quick.
"It really made me think of guys like Kristofferson and Waylon and Willie and Merle Haggard," he says. "Not only country musicians but a lot of the old blues guys, Robert Johnson, Muddy Waters, Leadbelly, Bob Dylan, anybody that's really spent hard time on the road like that with music. I don't know what it was like for those guys but I can only imagine it's like a love/hate relationship with the road. It's a different life. You live almost two separate lives."
While the song is very much indicative of the trials and tribulations we see Blake suffer through on the screen, and certainly a reflection of the genre's giants, Bingham says it's also something of an ode to the life of a traveling artist of any sort.
"Hanging out with T Bone and Stephen and even Jeff and his acting, this song can relate to people, not just musically," Bingham says. "The song's about those guys. That's what it's about. So interacting with them and hearing their stories, a lot of times when you're hanging around those guys, you don't say much. You just listen and learn. That's what I try to do when I'm around them and appreciate the time you have with them. Just like with Stephen (Bruton, who died of cancer during the film's post-production), you don't know how long they're going to be around. Appreciate them for who they are and have a lot of respect for them."
It might read like merely the right thing to say, but the truth is the reverence and a humble sense of place is very evident in Bingham's voice when he speaks.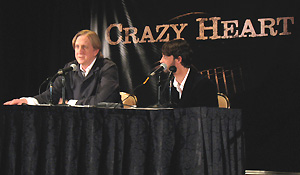 "The main thing I learned from Stephen and all those guys is just to be honest with what you're doing and what you're playing and singing about," he says. "People are always going to label you and critics are always going to say what they want to say but if you're just describing or telling a story about what you really see and what you experience in life," you'll feel fulfilled.
Bingham grew up in Hobbs, New Mexico, right on the Texas border. He listened to a wide array of music, from Bob Marley to Bob Willis, Dylan, the Rolling Stones, Commander Cody and His Lost Planet Airmen, a real variety. His father and two uncles owned a bar between Hobbs and Carlsbad and that's how a vast collection of vinyl ultimately made its way to a young Bingham.
He says he never thought country music was anything he'd forge into a living, however. He left home at a young age and certain records just reminded him of home, something he kept coming back to.
"When you're dislocated from your family or whatever, you have those little things that remind you home," he says, "whether it be smelling food, a home-cooked meal, something that reminds you of your grandmother's house, an old blanket's smell. And music was kind of like that for me. Whenever I heard those warm sounds from that period when they recorded that music, it reminded me of home."
Three years ago Bingham packed up and left Austin after exhausting every possible gig a young musician could play in Texas. "We were like, 'Man, we can be broke in L.A. just as much as we can be broke in Austin, let's go out there,'" he says. One unconventional gig was at Canter's deli on Fairfax, which features musicians from time to time. Colin Farrell happened to stop by and give Bingham and his drummer (it was just a two-piece set-up) a listen and that's where the actor essentially "discovered" Bingham, as Burnett puts it. A few years later when Farrell heard Bingham was involved in the project, he wanted to jump on board himself.
It's one of a number of moments during the development of the project that stunned Burnett into the realization that "Crazy Heart" was actually going to happen. Like baseball, country music doesn't have a fan base overseas large enough to ensure a sense of security in film financiers. It was an against-all-odds effort from the start and Cooper. But the writer/director knew at the outset that he wouldn't get the film made without someone like T Bone Burnett, and the authenticity that he and people like Bingham and Bruton, etc., brought to the project is ultimately the novel notion that elevates "Crazy Heart" from the fray of what might have been a typical country-themed film.
It's a film full of songs born out of chats and asides, late night, frivolous discussions with fellow musicians, Burnett says. And judging from his tone, he wouldn't have had it any other way.
"Scott and Jeff should probably get writer's credit on some of this stuff because songs grew out of conversations we would have about who Bad Blake was and who Tommy Sweet was and what kind of songs they needed," Burnett says. "One of us said, 'I used to be somebody, but now I'm somebody else,' the idea being that this would be a self-fulfilling prophecy of one of his early songs. We all do that. Songwriters tend to write songs about what we're afraid of or what we're determined to make happen. So as soon as somebody said that, it became the lynch pin. And it's Bad's first lyric in the story.
"There was another one, in a conversation. Bruton was leaving and Jeff said, 'Where are you going?' And he said, 'I'm going where I shouldn't go and seeing who I shouldn't see.' And Jeff said, 'That should be a song.' You have to be careful about what you say around a songwriter, I can tell you that.
"Everything becomes a song."