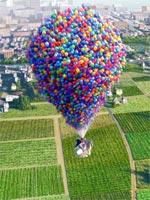 I'm always interested to see what cinematic musical achievements the Grammy Awards single out for recognition each year, largely because their pop sensibilities are so different (and their eligibility criteria so much looser) from those of the Oscars that they may as well exist on different planets.
Last year, for example, they selected "The Dark Knight" as the year's best score, though it didn't manage a nomination from the Academy. A similar shaming shows up this year, as the Grammys show the respect for Bruce Springsteen's "The Wrestler" theme that the Academy's music branch did not.
An earlier cut-off date means a few late-2008 titles show up here, including "The Curious Case of Benjamin Button," "Milk," "Slumdog Millionaire" and "Cadillac Records" — a song from the latter counting for one of Beyonce's field-leading 10 nominations, incidentally. (I won't even say anything about the non film-related categories.)
In terms of the 2009 slate, the most interesting thing to note here is a pair of Best Score nominations for Michael Giacchino, cited for both "Up" and "Star Trek." It's a double-dip that I think could well be repeated on Oscar nomination morning. (Thanks to commenter Mr F for pointing out that Giacchino actually received four Grammy nods overall, with "Up" also mentioned for Best Instrumental Composition and Best Instrumental Arrangement.)
Other than that, the score for "Harry Potter and the Half-Blood Prince" also makes the cut, while  "Inglourious Basterds" (obviously ineligible for any Oscar music categories) shows up for Best Soundtrack.
On a more eccentric note, congrats to Oscar host Steve Martin, who landed a nomination for Best Bluegrass Album — perhaps that will encourage him to bring the banjo on stage come March 7.
Film-related nominations below.
Best Score Soundtrack Album
Alexandre Desplat, "The Curious Case of Benjamin Button"
Nicholas Hooper, "Harry Potter and the Half-Blood Prince"
Danny Elfman, "Milk"
Michael Giacchino, "Star Trek"
Michael Giacchino, "Up"
Best Song Written for Film, TV or Other Visual Media
"The Climb" from "Hannah Montana: The Movie"
"Decode" from "Twilight"
"Jai Ho" from "Slumdog Millionaire"
"Once in a Lifetime" from "Cadillac Records"
"The Wrestler" from "The Wrestler"
Best Compilation Soundtrack Album
"Cadillac Records"
"Inglourious Basterds"
"Slumdog Millionaire"
"True Blood"
"Twilight"