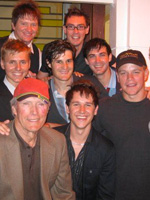 On Wednesday we featured the original song "9,000 Days" from Clint Eastwood's "Invictus" from South African boy band Overtone (featuring vocalist Yollandi Nortjie).  Today we're happy to bring you the second track, "Colorblind."
Overtone was reportedly "talent-scouted" by Eastwood's wife Dina when she attended the group's tribute to Freddy Mercury.  Eastwood dug the melodies and asked for a few demos to be used in the film.  So on one hand, it's nice that he's giving a leg up to an up-and-coming group.
The song is used in the film, quite suddenly, as the background music for a dramatic helicopter entrance by Morgan Freeman's Nelson Mandela.  I say suddenly because the cue quite literally seems to come from nowhere and the scene would probably be better served without it.
And that's before we get to the song's obvious downfall: lyrics and melody.  It sounds like some soft pop, radio-exhausted ballad, but the words hit everything so square on the nose that it's almost embarrassing.  But that's just my opinion.  Have a listen below and give us your thoughts.
Audio clip: Adobe Flash Player (version 9 or above) is required to play this audio clip. Download the latest version here. You also need to have JavaScript enabled in your browser.