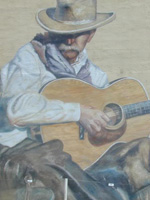 A few hours ago I sat down with T Bone Burnett and Ryan Bingham to talk about the songs from "Crazy Heart." I'll be cooking up that piece as the introductory installment of our Tech Support interview series with below-the-line and craft personnel tomorrow, but Burnett mentioned something that totally caught my attention about a potential Coen brothers film..
Of course, the Coens have had a number of projects stall out over the years, or more to the point, they've managed to leave some things on the back burner.  Everyone is still waiting for stuff like "To the White Sea" and "Hail Caesar," after all.  But Burnett told me that it was actually the Coens who told him about Ryan Bingham, the singer/co-writer of "The Weary Kind," who they were exposed to while filming "No Country for Old Men" in Marfa, Texas a few years back.
"One of the things they have on the horizon includes a singing cowboy and they were thinking Ryan Bingham would be good," Burnett said.
I hate to be the guy fishing for an unrelated news story at a junket/press day dedicated to another film (so often the case), but am I alone in thinking this would rock the house?  "True Grit" is already on the way, and there was talk once upon a time that the Coens were working on a rather violent western.  Maybe this singing cowboy idea was included in that (in fact, I TOTALLY hope it was).
Anyway, I don't want to be too speculative here.  Maybe it's old news, but it was new news to me, and an interesting nugget that, as a fan of the western genre, I thought I'd share.
Watch for my interview with Burnett and Bingham tomorrow, and in a week or two, I'll finally dedicate a Tech Support column to the Best Original Song contenders we've been collecting over the last few weeks.