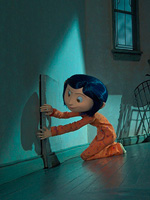 "Coraline" and "Up" both received nominations in eight categories.  "The Princess and the Frog" showed up in five while "Cloudy with a Chance of Meatballs" showed up in four.
"Fantastic Mr. Fox" (3),  "Monsters vs. Aliens" (3), "9" (2), "Astro Boy" (2) and "Ice Age: Dawn of the Dinosaurs" (2) brought up the rear with mentions in three and two categories respectively.  "Ponyo" also only landed two nods, for music and direction, so that's probably worth noting.
I'm listing per category, by the way, because it's weird to me to have two separate "nominations" in fields like character design and production design, one per person.  Why not just one for the film with the artists listed as nominees?  It makes sense for vocal performance nods, but not really otherwise.  Anyway, to be fair, I guess "Coraline" leads the whole field with 10 total nominations, while "Up" has nine.  "The Princess and the Frog" has eight, with that in mind.
Anyway, check out the full list of feature nominees after the jump (and the full list of all nominees at the Annie website).
Best Animated Feature
"Cloudy With a Chance of Meatballs"
"Coraline"
"Fantastic Mr. Fox"
"The Princess and the Frog"
"The Secret of Kells"
"Up"
Animated Effects
Scott Cegielski, "Monsters vs. Aliens"
Alexander Feigin, "9"
Eric Froemling, "Up"
Tom Kluyskens, "Cloudy With a Chance of Meatballs"
James Mansfield, "The Princess and the Frog"
Character Animation in a Feature Production
Andreas Deja, "The Princess and the Frog"
Eric Goldberg, "The Princess and the Frog"
Travis Knight, "Coraline"
Daniel Nguyen, "Up"
Bruce Smith, "The Princess and the Frog"
Character Design in a Feature Production
Daniel Lopez Munoz, "Up"
Shane Prigmore, "Coraline"
Shannon Tindle, "Coraline"
Directing in a Feature Production
Wes Anderson, "Fantastic Mr. Fox"
Pete Docter, "Up"
Christopher Miller, Phil Lord, "Cloudy With a Chance of Meatballs"
Hayao Miyazaki, "Ponyo"
Henry Selick, "Coraline"
Music in a Feature Production
Bruno Coulais, "Coraline"
Michael Giacchino, "Up"
Joe Hisaishi, "Ponyo"
John Powell, "Ice Age: Dawn of the Dinosaurs"
Production Design in a Feature Production
Christopher Appelhans, "Coraline"
Ian Gooding, "The Princess and the Frog"
Tadahiro Uesugi, "Coraline"
Christopher Vacher, "9"
Storyboarding in a Feature Production
Sharon Bridgeman, "Astro Boy"
Chris Butler, "Coraline"
Ronnie Del Carmen, "Up"
Tom Owens,"Monsters vs. Aliens"
Peter Sohn, "Up"
Voice Acting in a Feature Production
Jen Cody, Voice of Charlotte, "The Princess and the Frog"
Dawn French, Voice of Miss Forcible, "Coraline"
Hugh Laurie, Voice of Dr. Cockroach Ph.D., "Monsters vs. Aliens"
John Leguizamo, Voice of Sid, "Ice Age: Dawn of the Dinosaurs"
Jennifer Lewis, Voice of Mama Odie, "The Princess and the Frog"
Writing in a Feature Production
Wes Anderson and Noah Baumbach, "Fantastic Mr. Fox"
Pete Docter, Bob Peterson, Tom McCarthy, "Up"
Timothy Hyde Harris and David Bowers, "Astro Boy"
Christopher Miller and Phil Lord, "Cloudy With a Chance of Meatballs"