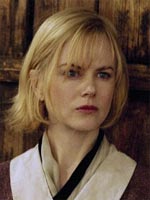 After some initial resistance, I'm getting chattier on Twitter lately. Yesterday, in a "best of 2000s" frame of mind, an enjoyable back-and-forth with some of you started after I idly asked which actor or actress has had the greatest decade on film.
The suggestions came in thick and fast, some mathematically going by awards stats, others opting for more abstract criteria. Some names came up with particular frequency: it's hard to argue with the choice of Kate Winslet, though with the peerless exception of "Eternal Sunshine of the Spotless Mind," I wish she had more stone-cold masterworks under her belt.
Johnny Depp was a popular choice, as was Sean Penn. I liked many more outré suggestions, including a shout-out for Patricia Clarkson, though will admit to scratching my head over two people's advocation of Clint Eastwood. (If we're counting people who only appeared four films this decade, I'll stick with Daniel Day-Lewis.)
But I was pleasantly surprised by the number of people who plumped for the same name I'd consider for the honor: Nicole Kidman. The actress has been at the receiving end of a lot of media snark lately, be it in a professional or personal capacity, but clearly she still commands respect for her adventurous script choices and rarefied taste in auteurs.
She's had a couple of indefensible clunkers, of course — though I have little patience for those who dismiss a "Golden Compass" or an "Australia" out of hand. But between the likes of "Dogville," "Moulin Rouge!," "The Hours" or "Birth," I find it difficult to name an actor who has tested themselves more in the last ten years.
Anyway, with last night's Twitter discussion fresh in my mind, I happened upon an interview with Kidman (not available online, sadly) in this month's edition of British GQ. It's a typically fawning profile, though she comes across most engagingly in it, opining that she should have lost her Best Actress Oscar to Renée Zellweger (uh, no), and quipping that the all-star cast of "Nine" is a blessing because "the blame can be spread more evenly."
But relating to the discussion above, she addresses her sometimes eccentric instincts, and the mixed fortunes of her recent work, with admirable pride and intelligence:
I'm no businesswoman. I've never cultivated that side of myself, the business side. I have very avant-garde tastes — that's just what I'm drawn to. Sometimes that means working on tiny, often unheard-of artistic endeavors, sometimes it means working with the likes of Baz on movies like "Australia" or "Moulin Rouge!," which make big, bold, epic statements. I was raised on art and literature, and things that were left of center, so where I say success lies is probably very different to a lot of people. I make films that aren't everyone's cup of tea, I realize that. I get it. But that's where I am.

To me, "Birth" was a success. And exactly the sort of film I want to make. If you're taking risks it isn't always going to work, and yeah, it hurts sometimes. But I have a career where I have had to weather the storms. It's become second nature to me. I'm used to my roles and the movies I'm in being criticized. I seek it out. In my life I do not seek out a safe place. I like existing in an uncomfortable place artistically.
Would that more people in the industry felt the same way.