There's really no arguing the fact that South Africa's victory in the 1995 Rugby World Cup was an inspirational moment of collaborative triumph for a country healing the wounds of the past.  The occasion was an against-all-odds statement of progress and togetherness.  It announced to the world that a nation had chosen to look to the future, not to the past.  And the echoes undeniably reverberate in the crossroads the United States finds itself in this very day.
These themes are apparent in Clint Eastwood's "Invictus," but they do not have the elevating quality that might have rendered them truly affecting.  A flat narrative and tedious structure ironically hold the audience at arm's length from a story of inclusion and camaraderie.  A confused central relationship is done no favors by a lack of true conflict and dramatic tension (the latter due largely to swift third act resolution).  The film simply chugs along at a capable but unremarkable pace, and given the subject matter, it's staggering how arbitrary the proceedings ultimately feel.
This might be seen as par for the course when it comes to Eastwood.  He is an unfussy director concerned with streamlined, no-frills visual story telling, and at times, refreshingly so.  But "Invictus" doesn't feel like the work of a man invigorated by his focused process.  It almost feels like the work of an exhausted artist, letting any number of elements slide on the way to completing a toothless, benign depiction of a momentous occasion.
Morgan Freeman stars in the role Eastwood has said he seemed born to play.  Nelson Mandela, freshly freed from the shackles of incarceration (27 years of them on Robben Island prison off the Southwest coast of South Africa), returns to the mainland in the film's early moments to run for election in a post-Apartheid climate.  Newspaper headlines later read, "He can win an election, but can he run a country?"  Concerns of assassination attempts from fringe extremists are prevalent in Mandela's security detail.  The Obama parallels couldn't be more apparent.
The audience is served the most facile visual cue of South Africa's division early on as a road cuts through the scenery, Mandela's entourage plowing along.  On one side, a group of whites plays Rugby.  On the other, a group of black children.  The white coach barks at his players to take note: "This is the day our country went to the dogs!"  Eastwood, and screenwriter Anthony Peckham, want to make sure you get it.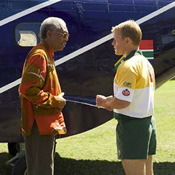 From there the film becomes a story of political and human strategy.  In Mandela's view, the best way to bring the country together is through a World Cup victory for the Springbok Rugby team, a nearly all-white squad largely hated by the country's black citizens for its echoes of the not-so-distant Apartheid past.  Matt Damon stars as the team's captain, Francois Pienaar, who befriends Mandela on this quest for forgiveness and progress through the symbolism of sport.
Freeman is rather commanding as Mandela, if only due to the striking image he casts.  The accent is dodgy, and Freeman was never one to disappear inside a character, but he carries the role most impressively in the quieter moments, some of them comedic, in fact, a look here, a dart of the eye there.
Damon, on the other hand, has little to do beyond the general cheer-leading inspirational huddle speeches you'd expect from a sports drama.  He's just there, a pawn on Eastwood's chess board, moved to and fro when needed, but never fully realized as an individual.
Pienaar's home situation, meanwhile, is played up for a thematic touch with a family, especially a father, stuck in the past, not to mention the presence of a black housekeeper on the outside of the family looking in (and ultimately, of course, accepted into the fold via a shiny fourth ticket to the World Cup final).  But these characters never once reach further than the simplistic devices they're meant to be.
The entire third act of the film is focused exclusively on the World Cup final with New Zealand's All Blacks (an ironic team name that would almost seem another facile manifestation if it weren't true).   And heaven help anyone who doesn't understand the rules of an already complicated sport, because Eastwood doesn't appear compelled to film it with any actual sense of drama or convention.  Things just seem to happen at random and before long, the game is won.  For some that might come off as artistic.  But it rings closer to lazy.
And drumming up terrorist suspense and 9/11 imagery around the SAA "Good Luck" flyover during the game's opening moments frankly comes off a bit tasteless.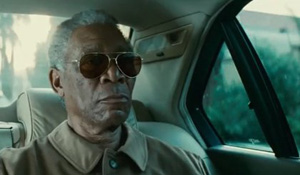 The title of the film, of course, reflects the William Earnest Henley poem that roused Mandela's spirits during his time on Robben Island.  Taxing repetition of the poem toward the film's end by Freeman, ghostly over the soundtrack, makes for a few irksome moments.  The power of its words are meant to resonate during a Springbok visit to Robben Island, but again, the easy approach to filming this sequence — the specter of Mandela chained to the earth, peering up at Pienaar, eyes locked — it's ultimately laughable.
If one is talking Oscars with a film like "Invictus," and given the positioning, of course this is meant to be on the table, then it's worth considering that even fans of the piece couldn't possibly, credibly consider it one of Eastwood's top tier works.  An expanded Best Picture category and enough traditionalist voting methods will likely secure it a spot in the field, and Freeman has enough gravitas to coast to a most undeserved nomination, but beyond that, nothing rings true.  Best Director?  It would be surprising.  Best Supporting Actor?  The acting branch would be voting on autopilot.  Below the line?  Not enough frills.
But away from the black hole of awards considerations, it's difficult not to see "Invictus" as a warning that Eastwood could be on the precipice of a Woody Allen-like plunge following a very commendable latter-career burst.  Every one of Allen's films as of late, throughout his career, have been about something.  But the craft has worn thin (save for last year's "Vicky Cristina Barcelona").  That's where I'd say Eastwood finds himself, despite what critical apologists might say.  A few moments away from the fray might do him good.
But who's listening to me?