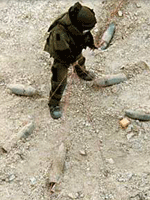 I had a Q&A to moderate this evening, so forgive the lateness here (though these and the Indie Spirits, for my money, stopped being about true independent cinema long ago, so there was really no haste to begin with).
Anyway, predictably, "The Hurt Locker" came out on top at tonight's Gotham Awards.  The film won Best Feature and Best Ensemble, though lead actor Jeremy Renner was upset in the breakthrough actor race by Catalina Saavedra in "The Maid." I've got that screener around here somewhere.
Tomorrow the Indie Spirits announce their nominees, which, by the way, will not include "The Hurt Locker" because the film wasn't eligible this year.  It was last year, when it received nods for Best Actor (Renner) and Best Supporting Actor (Anthony Mackie).  Looking for a leg up tomorrow are "Precious" and "Crazy Heart," I'd say, though we can expect some surprises too, I guess (I hope).
Full list of Gotham Winners after the jump.
Best Feature
"The Hurt Locker"
Best Documentary
"Food, Inc."
Breakthrough Director Award
Robert Siegel, "Big Fan"
Breakthrough Actor Award
Catalina Saavedra, "The Maid"
Best Ensemble Performance Award
"The Hurt Locker"
Best Film Not Playing at a Theater Near You
"You Won't Miss Me"