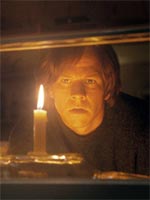 • "The Lovely Bones" finally landed this week, to decidedly mixed reviews.
• Kris and Anne offered their thoughts on the film (among others) in this week's Oscar Talk.
• In Off the Carpet, we combed through the Best Adapted Screenplay contenders (which now include "District 9").
• "New Moon" surprised nobody with a record-breaking box-office haul last weekend, and its dominance is set to continue.
• This week's Long Shot column surveyed the growing buzz around populist contenders in this year's Oscar race.
• With his performance in "The Messenger" generating dark-horse awards buzz, we interviewed Woody Harrelson.
• We also caught up with Willem Dafoe, currently on screens in both the talking-fox films of the year.
• To remind you that the season is well and truly here, the Golden Satellites announced their nominations.
• In other precursor news, the BFCA announced a number of new categories for their annual awards.
• Continuing our rundown of Best Original Song contenders, we examined tracks from "Crazy Heart," "Invictus" and two from "Nine."
• Speaking of "Nine," an underwhelming quartet of posters was unveiled for the film this week.
• This week's edition of Tech Support spotlighted the Best Makeup category.
• Ten films were Oscar-shortlisted in the Best Animated Short category; we featured Australian entry "The Cat Piano."
• Away from the current season's madness, our Great Performances series continued with a rewind to 2002.