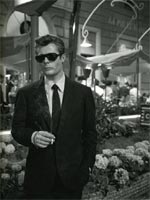 OK, forgive the idle question that follows, but it's a Sunday. Something has been bothering me about the lyrics to Kate Hudson's "Cinema Italiano" number from "Nine":
I feel my body chill
Gives me a special thrill
Each time I see that Guido neorealism
I love the dark handsome guys
With the skinny little ties
Dressed mod, looking out of sight…
And so on and so forth, as Hudson sings the praises of "shades in the middle of the night," "the essence of Italian style" and Rome nightlife. You don't need a PhD in film studies to gather that Fellini's "La Dolce Vita" is the key reference point here.
Neither do you need such a degree to know that "La Dolce Vita" marked the director's crucial departure from the working-class concerns of his earlier neorealist work. So when the song inaccurately equates Italian neorealism with these glamorous visual trappings, is that intended as an ironic comment on the Hudson character's vapid ignorance? (She is a fashion journalist, I get that.) Or is the lyricist's error?
Can someone who's seen the film enlighten me? It's a minor point, but it's been gnawing at me.