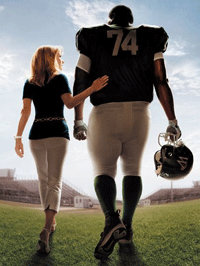 *All historical figures cited are adjusted to today's dollars.
Did you enjoy your Thanksgiving? If you are Sandra Bullock or work for Warner Bros. then I think I already know the answer.
The number one movie for the second weekend in a row is "The Twilight Saga: New Moon" with $42.5 million. This is a good news bad news situation for Summit. The good news is that the film has $230.7 million after 10 days and only eight films have grossed more in that period of time. The bad news is that the figure represents a 70% drop from last weekend and only three films released on at least 3,000 screens have ever dropped more.
And this is a holiday weekend. Does anybody at Summit care? Probably not, as the drops should level off a bit from here and the film will easily scoot past $300 million and become the second highest grossing title of the year.
But what is the deal with "The Blind Side?" Seriously. A second consecutive weekend in the runner-up spot and another $40.1 million over the three days gives the drama $100.3 million after just 10 days. For those keeping track at home, that's an 18% increase over last weekend and there's a very real possibility that the film will make close to $250 million in the United States.
I'm gonna go ahead and say right now that this film will out-gross "Avatar" and that's just crazy. In some ways, it's good that a mid-budget drama like this can still be a blockbuster but I'm just baffled. I guess we shouldn't underestimate the star power of Tim McGraw.
The first new release comes at number four in "Old Dogs." Disney usually opens a big family film over Thanksgiving, but this was no "Enchanted" or "101 Dalmatians." No, this was a film that at some point realized that Seth Green being cradled by a gorilla was more worthy of prime poster real estate than John Travolta or Robin Williams.
$16.8 million for the three days and $24.1 million since Wednesday is a real soft result and Arnold Schwarzenegger's "Junior" opened on Thanksgiving week in 1994 with $16.8 million and wound up with $63 million, so that seems like an eerily apt comparison.
"Ninja Assassin" snuck up in sixth place with $13.1 million for the three days and $21 million for five. The result is better than the $18.2 million that "Transporter 3" made over five days last year so that's encouraging for Warner Bros. I haven't seen a frame of this movie and have no idea what it's about other than a ninja assassin so I can't really comment on it. But I think it might be a period romance.
"Fantastic Mr. Fox" is the loser of the week, earning $7 million for the three days and $9 million for the five, which is pitiful for animated films. You want to know another animated film that debuted with $7 million? "Piglet's Big Movie" and "Jonah: A Veggie Tales Movie." The result, however, is fantastic for a Wes Anderson film and should wind up his second biggest grosser ever behind "The Royal Tenenbaums."
In limited release, "The Road" debuted very strong with $1.5 million on 111 screens. The Weinstein Company was really testing the waters with that type of screen count and now an expansion seems very likely. I don't do much Oscar prognostication on this site but I've had "The Road" as one of the 10 nominees for a while and I'll stand by it in print.
"The Princess and the Frog" opened on two screens and grossed $712,000, which gives it the fourth-best per-theater average of all time, behind three other hand drawn Disney classics. The tickets included some kind of show and probably cost $25, but this is still a terrific start for the toon.
This week I saw "Fantastic Mr. Fox" with my family on Thursday and I was the only one who thought it was great. My brother and his girlfriend (who rarely see anything) wanted their money back, so it doesn't look good for that film's long-term prospects. They did, however, laugh at the "Alvin and the Chipmunks: The Squeakquel" trailer, so…
What did you see this week?  Here are the weekend's top domestic grossers, courtesy of Exhibitor Relations: