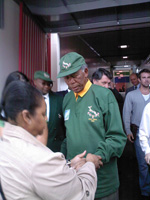 Even though trade reviews have popped up and there are enough little dutch boys around to seal off the steadily breaking dam, certain parties are still not permitted to discuss "Invictus" in a review capacity.  However, I would like to offer up some thoughts on two original songs from the film that should be added to that category's on-going conversation in this space.
"9,000 Days" and "Colorblind" are a pair of sentimental tracks peppered throughout the film.  Both songs, as well as most of the soundtrack, can be chalked up to the South Africa vocal group Overtone.  "9,000 Days," using William Earnest Henley's poem "Invictus" as a framing device, sounds curiously like Jamie Callum's title track for "Gran Torino" last year.  It's a breezy, jazzy tune that also features Yollandi Nortjie.
"Colorblind," meanwhile, from Overtone on their own, is a little more difficult to defend.  From the schlock, faux-emotive melody of the thing to the trite lyrics (which could probably be determined from the nail-on-the-head title), it's a fairly miserable song.  And its usage in the film is swift, manipulative and frankly distracting.
Suffice it to say, I don't expect these tracks to play a major role in this year's race for Best Original Song, but they're worth mentioning in this robust year for the category regardless.