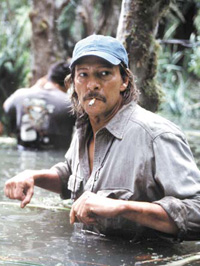 2002 was probably one of the greatest years for performance excellence in film history, from leading actor right through all the supporting players. They could have easily nominated 10 actors in each of the four acting categories, and still missed some.
Though Adrien Brody won the Oscar for "The Pianist," which was a huge shock, I have always felt that Jack Nicholson gave one of his finest performances in "About Schmidt." I suspect he and Daniel Day-Lewis in "Gangs of New York" may have split the vote in some way, allowing for Brody's win.
Michael Caine was up for "The Quiet American" after that film scored with critics at many precursor fests, and Nicolas Cage was the fifth nominee in "Adaptation." Great performances all, deserving performances all, but there were so many other noteworthy turns.  Like Robin Williams's chilling performance in "One Hour Photo" as a deranged photo lab worker obsessed with a family. Equally brilliant was Leonardo DiCaprio as the young fraudster in "Catch Me If You Can" while Tom Cruise gave one of his very best performances in Steven Spielberg's "Minority Report."
One of the year's very best films, "Road to Perdition," contained one of the year's best leading performances from Tom Hanks, as a lethal killer on the run from his own mob.  And though I loathe the work of Richard Gere, I must confess he did some of his finest work in "Chicago," winning a Golden Globe for his performance, but no Oscar nod.
Many admired Adam Sandler in "Punch Drunk Love" and felt him worthy, while Greg Kinnear gave a career-defining performance as Bob Crane in "Auto Focus." Few noticed. I know some loyalists will say Adam Sandler was deserving of a Best Actor nomination, but I never agreed. It was a good performance, different yet the same, muted yet using what Sandler did best, and though it was thrilling to see him reach as an actor…this was not Oscar material.
The supporting men were conquered by Chris Cooper, who was astonishing in "Adaptation," and I doubt anyone else could have won pitted against him, but there were an equal number of other performances deserving of at least the nod.
Dennis Quaid won the New York Film Critics Circle award for Best Supporting Actor, as well as countless others for his remarkable performance in "Far from Heaven," but incredibly he was snubbed by the Academy. His co-star Dennis Haysbert was equally brilliant in the film, though few noticed except the critics. That flawless film might have been the film of the year.
Alfred Molina was also quite good in "Frida," and of the Oscar nominees, which included Cooper, Paul Newman gave an electrifying performance as an old mobster in "Road to Perdition," Ed Harris was great in "The Hours," John C. Reilly was surprising in "Chicago" and Christopher Walken (a sentimental favorite for some that year) was excellent in "Catch Me If You Can."
And yet there are so many more, beginning with Jude Law in "Road to Perdition" as the wildly out of control crime photographer who is also a hit man — a brilliant performance on every level.
Martin Sheen was outstanding in "Catch Me If You Can," Max Von Sydow wonderfully sinister in "Minority Report," Jeff Daniels excellent in a small role in "The Hours." The scene between Daniels and Meryl Streep in the kitchen is a showcase of great acting as the two of them go toe-to-toe with one another and show us their best. Incredibly Daniels would do even better work in the years to come.
Talk about an abundance of great male performances!
With the ladies, I would say Julianne Moore was ultimately robbed of the Academy Award for her stunning turn in "Far from Heaven" by Nicole Kidman in "The Hours," a good performance, not a great one.  And how, how, how did Paramount blow the campaign for Best Actress for Meryl Streep, who should have been nominated, perhaps even in place of Kidman for the same film?  I loved that Salma Hayek got nominated for "Frida" as well as Renee Zellweger in "Chicago."
And the critics darling of the year was obviously Diane Lane in "Unfaithful." But other than Streep, who got left out?  Where to start?
Any one of the ladies from "Talk to Her" or the great Maggie Gyllenhall in "Secretary" to begin with. God help me for saying so, but should Nia Verdalos have been a nominee for "My Big Fat Greek Wedding?" Many thought so. Isabelle Huppert's haunting performance in "The Piano Teacher" earned rave reviews and could have easily been a nominee for Best Actress. Cate Blanchett could have earned a nod for "Heaven" just as Jennifer Aniston was quietly remarkable in "The Good Girl."
The category for Best Supporting Actress was equally ripe with possibilities far beyond the five nominees. Catharine Zeta-Jones was the eventual winner for her show-stopping work in "Chicago," though I found her performance full of attitude rather than reality. She was far too aware of what she was playing rather than why.
I thought Streep's work opposite Cooper in "Adaptation" was the year's best-in-show in the category.  How she lost is beyond me. Kathy Bates was also terrific in "About Schmidt" and so nominated, along with Julianne Moore in "The Hours" and Queen Latifah in "Chicago."
Certainly Susan Sarandon should have gained some attention for "Igby Goes Down" and Emily Watson deserved a nod for "Punch Drunk Love." Patricia Clarkson won the New York Film Critics Circle award for Best Supporting Actress in "Far from Heaven," but she was not nominated for an Oscar despite a brilliant, unsettling performance.  "The Sopranos" star Edie Falco, meanwhile, won the Los Angeles Film Critics Association award for her work in John Sayles' "Sunshine State."
The wonderful Hope Davis gave a brilliant performance in "About Schmidt" but everyone was talking about Nicholson (rightly so) come Oscar time. Surely Samantha Morton deserved a nomination for her unique work in "Minority Report" along with Amy Adams in "Catch Me If You Can?" And finally, Oscar winner Kim Basinger gave a fine performance in "8 Mile" as a trailer park mom, proving again that the lady can act.
Amazing year.
What are your thoughts on the turns of 2002?  Have your say in the comments section below!