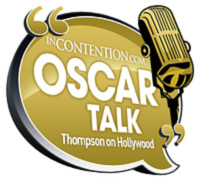 Welcome to Oscar Talk, your weekly kudocast featuring yours truly and Anne Thompson of Thompson on Hollywood.
On the docket today:
• We lead off talking holiday screeners, including further talk of "Inglourious Basterds" slipping into the 10 in the wake of fading heavies.
• Speaking of which, fresh off a screening of "The Lovely Bones," a film that isn't caught in the embargo tug of war, we touch briefly on our thoughts, to certainly be expanded at another time.
• As trade and magazine reviews pop up while others are still told to hold off, we get into Clint Eastwood's "Invictus."
• And with screenings of "Nine" already two weeks old, we finally add our perspective on the musical adaptation and certain category placements.

• Finally, with no revelations left save for James Cameron's "Avatar," we look at the film's marketing strategy and the rumor mill on secret screenings.
Have a listen to this week's podcast below, with Kate Hudson and "Cinema Italiano" leading the way. As always, you can subscribe to Oscar Talk via iTunes here.
[display_podcast]