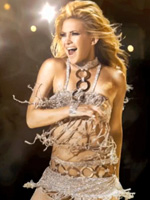 Wednesday we featured the original song "Take It All" from Rob Marshall's "Nine." Today we're happy to feature the other tune conceived by Maury Yeston specifically for the film: "Cinema Italiano," performed by Kate Hudson.
Hudson's Vogue journalist Stephanie was expanded considerably for the film, a lustful young thing who announces, "Style is the new substance.  It's what my readers want."  Her song kicks in during an attempt at seducing Daniel Day-Lewis's crisis-stricken filmmaker Guido Contini and is meant to reflect the flashbulb-popping chic and panache of the entertainment industry, and certainly, Stephanie's place in that shallow world.
I would say it stands out as the most catching tune of the piece, but it's also the most out of place and has some fairly trite lyrics (and some odd rhythm shifts), but it's a sure bet for a nod, along with the aforementioned "Take It All."  Give it a listen below and tell us what you think.
[audio:http://www.incontention.com/audio/cinemaitaliano.mp3]