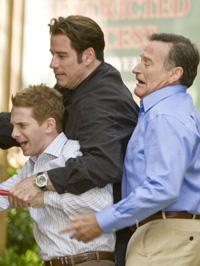 *All historical figures cited are adjusted to today's dollars.
Happy Thanksgiving everyone. If you are like most of America, then you vaguely had an idea that some movies opened on Wednesday, you stuffed your face on Thursday and you will flock to the multiplex today. This five-day period is extremely lucrative for the box office in general but not always new releases, which will most certainly be the case this year as "The Twilight Saga: New Moon" should continue its dominance over the marketplace.
The one studio who likes this frame more than any other is Walt Disney and it will be unleashing "Old Dogs" on unsuspecting audiences. Seven of the top 10 Thanksgiving weekend openers of all time belong to the Mouse House, including all-time champ "Toy Story 2," which walked away with $81.1 million over just the three-day weekend in 1999. Most recently, the studio tipped its hat to the past and came away with $35.9 million for the three days in 2007 with "Enchanted." Early word has "Old Dogs" earning around $3 million on Wednesday, which is surprisingly soft and could put it on course for an $18 million weekend and $25 million for the five days.
Warner Bros. opens the mandatory action film for Dads in "Ninja Assassin" and early word had it making $3 million on Wednesday as well. The multiplier won't be as good as it is for "Old Dogs" but it still could translate to $15 million for the three days and $22 million for five. That's right in line with "Transporter 3" and "Hitman" and all the other terrible action films that have opened during Thanksgiving.
Finally, "Fantastic Mr. Fox" expanded wide and earned an estimated $1 million on Wednesday. While that number is a little soft for a kids film, it will likely put the film on course for a $10 million five-day gross and those are blockbuster figures for a Wes Anderson film. Kids are clearly more interested in old men getting hit in the nards than animated foxes working through their family drama through adventure.
"New Moon" should make another $75 million or so over the five days and be pushing $250 million by the time I wrap things up more comprehensively in the Sunday Cents column. "The Blind Side" could also make as much as $45 million for the five days and can maybe already qualify as the sleeper hit of the year as it pushes $100 million in 10 days.
Check back on Sunday for full results and analysis.