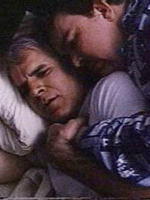 It's that time of year.
I've got about a dozen heads coming over for a Thanksgiving feast.  Parade.  Football.  Screeners (a LOT of 'em).  A full day of cheer.  But I'd like to, of course, take a moment to hand out my thank yous.
At the top of that list are my fellow contributors here at In Contention; Guy, Gerard, Chad, John, you help me keep the ship afloat.  It's a different place without you.
Ditto the readership.  Each of you keeps things lively and in motion.  Without that we're just crying out in a void.
I'm thankful for those I deal with professionally on a daily basis.  Sometimes we butt heads, other times we serve separate, diametrically opposed masters, but I'd like to think we maintain our humanity, if sometimes not our sanity.  And I'm happy to call many of you my friends.
Thanks, of course, to my family, who indulged the movie bug in me way back when.  And to my lady, April, for the consistent patience you seem to pull out of your hat day in and day out.  I'm a handful.
Thank you.  And Happy Thanksgiving.  The floor is yours today.