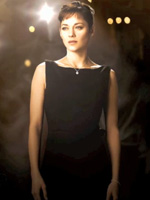 This year's big, bombastic musical "Nine" features two original song compositions from Maury Yeston.  We're happy today to feature one of them: "Take It All," performed in the film by actress Marion Cotillard.
Of all the tracks in the film, both original and pre-existing, this one has the most impact if only because it comes during one of the film's few truly emotional and affecting moments.  It would be spoiler territory to reveal the particulars of that scene, but the lyrics pretty much, uh, say it all, if you will.
The tunes of "Nine" won't have the same problem so many other original songs will have this year because, as movie musical numbers would, they are used within the context of the film.  Indeed, they push the story from point A to point B throughout, and "Take It All," for my money, was the payoff culmination of all of that, partly due to the power of the track, but mostly due to what Cotillard does with it and how her performance resonates in the actual scene.
Have a listen to the track below and tell us what you think.
[display_podcast]