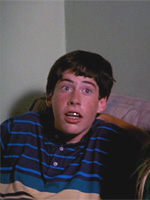 Jason Reitman has obviously come into his own as a filmmaker ever since his 2006 debut "Thank You for Smoking." But once upon a time, he was a star of a different sort: the busted middle-schooler caught smooching in Ivan Reitman's 1990 comedy "Kindergarten Cop."
You remember the scene.  The Governator is stalking the hallways looking for that adorable little blond-haired, blue-eyed kid, Dominic.  The school has been set on fire by the creepy long-haired heel of the piece, Dominic's psycho father.  Detective John Kimble turns a corner into an abandoned room and there they are, two youngsters slipping in a little make-out action during the chaos of the fire alarm.
"We thought it was another drill," a young Reitman exclaims, voice breaking, shiny braces — the typical cues of preadolescent youth.  He must have been about 12 or 13 at the time.  But even if you were aware of that bit of casting trivia, you might not realize it was actually Reitman's first kiss.
Yes, Jason Reitman's first kiss was directed by his father.  I don't think anyone anywhere can relate to THAT.
"The worst part was getting directions from my dad," Jason told me over Twitter last night.  "It was really embarrassing.  My kissing was half as bad as my acting.  I doubt she knew it was my first kiss.   Her name was Tiffany."
I wonder where Tiffany is now.  Does she realize her place in movie history?  Anyway, I thought it would make a nice pre-holiday item, so have a look at the scene in question.  Jason, you dog!