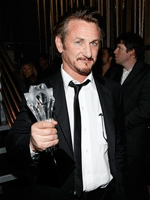 Hot off the presses:
The Board of Directors of the Broadcast Film Critics Association has voted unanimously to expand the categories we will be voting on for this year's 15th annual Critics' Choice Movie Awards. More fun for everybody!

We believe it is appropriate and wise for the BFCA to model its categories more closely after those of the Academy of Motion Picture Arts and Sciences. This means adding several "technical" categories, dividing Best Screenplay into Original and Adapted, and tweaking a music category from Best Composer to Best Score. We will not be voting on shorts and we will only be voting one Best Sound category. (And we most likely will not present any of the new categories on our live telecast as we still have only two hours on VH1.) We will still be voting in our unique categories, including Best Comedy, Best Action Movie, Best Young Actor and Best Acting Ensemble.
Full list of categories after the jump.
The categories for the 15th annual Critics' Choice Movie Awards are:
BEST PICTURE
BEST ACTOR
BEST ACTRESS
BEST SUPPORTING ACTOR
BEST SUPPORTING ACTRESS
BEST YOUNG ACTOR/ACTRESS
BEST ACTING ENSEMBLE
BEST DIRECTING
BEST WRITING (Original Screenplay)
BEST WRITING (Adapted Screenplay)
BEST CINEMATOGRAPHY
BEST ART DIRECTION
BEST EDITING
BEST COSTUME DESIGN
BEST MAKEUP
BEST VISUAL EFFECTS
BEST SOUND
BEST ANIMATED FEATURE
BEST ACTION MOVIE
BEST COMEDY
BEST PICTURE MADE FOR TELEVISION (Network or cable, including mini-series)
BEST FOREIGN LANGUAGE FILM
BEST DOCUMENTARY FEATURE
BEST SONG
BEST SCORE
We were tossing around ideas for the name of the actual statue (as in Oscar, Emmy, etc.) a few weeks ago and I've been meaning to throw it out to the readership here.  I offered up "The Star" and "The Rave" as possibilities.  But it should be organic if anything, I suppose.  "Critics' Choice" is the brand, after all, but it was something that came up.  Any bright ideas?  Just curious…