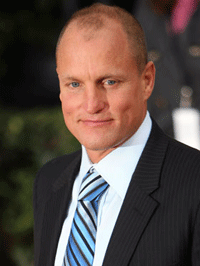 Woody Harrelson is running behind…about a half an hour behind.  This after a number of delays and schedule changes throughout the week.  When he strolls nonchalantly out onto the rooftop spread of a posh West Hollywood hotel, you can see why.  It's not irresponsibility.  It's not eccentric nuisance.  The guy just marches to his own drummer, and certainly, to his own beat.
Publicity handler in tow, Harrelson moves and speaks purposefully, casual, always relaxed (though one might have fun speculating why that is).  Some may get him to say sensational things, but that's not the M.O. of the interviewer he's chatting with this afternoon.  So the perching hawk to my left, giving him a sharp look when he offers harmless jokes that might be seen as tasteless, isn't exactly necessary.
"Why don't you let us talk alone," he finally says, half-way through — respectfully, but sincerely.  He's a man who seems to enjoy a chat, no matter how much it might push the rest of his schedule back.  And he'd certainly prefer to engage in one without that kind of oversight.
Ostensibly his press rounds as of late are for the Oren Moverman film "The Messenger." Appearances on The Colbert Report and, immediately following our encounter, The Late Late Show are popping up left and right.  He's on the cover of this month's Venice magazine.  But he's also given a pair of zany performances in genre films this year that are worth discussing for the versatility they illuminate in his work.
Today he's bundled up in a coat and an Army cap he picked up at Hunter Army Airfield outside of Savannah, one of a number of trips he's made to bases around the country as his view of military personnel has shifted considerably this last year or so.
"The Messenger" has been a "journey of the heart," Harrelson says.   "I admit to one big fault in my whole proselytizing for anti-war, pro-peace, however you want to put it, and that's that I lumped the war and the soldiers together.  And it took the experience of this movie to make a distinction between the war and the soldiers.  And now I see these guys as extraordinary bright lights of profound patriotism and a depth of dedication.  It's not these guys who decide the policies."
Indeed, it's interesting to note Harrelson's reconciliation of his own politics with the making of "The Messenger." He stars alongside actor Ben Foster in the film as a casualty notification officer, one of the stone-faced souls tasked with bringing the life-shattering news that a loved one has been lost in Iraq or Afghanistan.
And the reaction has been considerable, especially among Harrelson's colleagues.  Actors Owen Wilson and Ben Stiller quietly screened the film recently for a number of friends, including Charlize Theron, Matthew McConaughey, Sean Penn, John C. Reilly, Lisa Kudrow, Harry Dean Stanton, Emile Hirsch and more.  Penn was so moved by the film that he got involved with another quiet screening last weekend in San Francisco for many of his Academy friends in the area, which could go a long way toward securing Harrelson's place in the Best Supporting Actor conversation this year.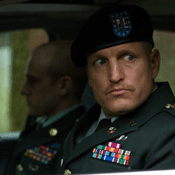 But it almost didn't happen for Harrelson.  His role had originally been offered to a few other actors and the script eventually came to him with a different, smaller part in mind.  But the actor really wanted to play Captain Tony Stone, the hard-hearted experienced notification officer who's job it is to train Foster's Staff Sergeant Will Montgomery on the job.
He was filming Guy Moshe's "Bunraku" in Bucharest at the time, a project his agent was keen on him completing, but "The Messenger" really spoke to him.  And while he's clearly okay with having his career steered by those who have his best interests in mind, the opportunity to work on Moverman's film was one of those moments when he took firm control of his own career, despite what those behind the scenes might prefer.
"I said, 'Alright, I'll do 'Bunraku.' But I'm also going to do 'The Messenger,"" he says now.  And after some schedule shifting and accommodating, he finally got his wish.
The down side was a lack of preparation time.  Moverman gave Harrelson a copy of Tim O'Brien's "The Things They Carried" in order to get the actor in the head space of playing a military officer.  Harrelson would also stroll around Bucharest wearing his Army fatigues and boots while Moverman helped him out with a backstory for the character.  Coming off of "Bunraku," the actor was really feeling behind things, he says.
"None of that meant nearly as much as the first day that I met those guys, Oren Moverman, Lawrence Inglee, the producer, and Ben Foster," Harrelson says.  "We met at Penn Station and got on a train, went up to D.C. and we went to Walter Reed."  And that's where the actor's "journey of the heart" really began.
"Among other things that really helped keep me grounded to this performance was Ben Foster," Harrelson says of his co-star, someone he believes to be a new Marlon Brando or James Dean.  "If I would ever be faltering or, I don't know, even if I didn't, he'd hand me these pictures of soldiers and they'd be smiling, maybe, in a village in Iraq, a bunch of kids around, all smiling up at the camera, a beautiful face, happy.  And then you'd see 'Died, 2004.'  And there'd be just, you know, a lot of them.  A lot of those pictures, and he had a bunch of them.  During the course of the whole shoot, I really felt like it kept me hyper-connected to the truth of things."
The narrative plays out almost as a series of vignettes, the pair traveling from family to family, ultimately proving out a dedicated and accomplished ensemble.  And the way Moverman chose to film these scenes, however, may have amped up the realism of the piece.
"There was no rehearsal," Harrelson says.  "When we knocked on the door, we didn't know who was opening it.  I thought it was a really good strategy.  Everything was one camera, one take.  Sometimes he does three takes total, but it's all one camera, one take."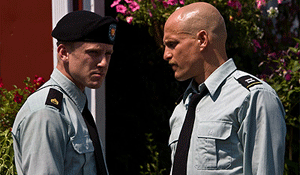 That spontaneity on the set led to some moments Harrelson and Foster weren't expecting, such as when a grief-stricken mother lashes out physically at Harrelson's Captain Tony Stone in an early scene, or when Ben Foster is shoved from behind by actor Steve Buscemi, himself taking on the role of a notified father.  And Harrelson says he stood in awe of his co-stars as they went through a wide array of emotional reactions.
"I would joke that my moniker should be, 'Captain Tony Stone.  When you stop crying, I start,' because as soon as he says cut, they'd stop crying and I'd start balling, because it was so affecting."
The film builds to an emotional climax for Harrelson's character that is the centerpiece of the awards buzz his work has been stirring.  Following Staff Sergeant Montgomery's heart-wrenching re-telling of a tragic mishap that has left the young soldier feeling responsible for the death of another soldier, Tony Stone takes it all in and begins to sob, almost uncontrollably, the profound sadness as arresting as you might expect.
"I was so blown away by that," Harrelson says of the anecdote.  "It wasn't like I had to think about my dog dying.  I really felt connected to his words.  That was right at the end of our shooting, and it was my character feeling connected to the story behind the war hero, of how he felt responsible for blowing someone else up, that he felt so bad that he was going to throw himself off the roof of a hospital.  That story to me was just very penetrating."
Harrelson says he feels like Foster is his brother.  He calls the young star the most dedicated actor he's ever seen, in terms of complete immersion.  "And that's the thing about him," Harrelson says.  "His character is very stoic, but you see how he cares through his eyes.  You see his heart through his eyes.  I really feel like he's a young Brando or like a Jimmy Dean.  He really has that intensity and that kind of greatness.  And that's professionally, but just as a person, he's a wonderful, fun-loving, great guy.  A lot of energy.  But he's always intense, even when you're having fun with him."
Elsewhere this year Harrelson can be seen in Reuben Fleischer's "Zombieland," a creative spin on a familiar genre that became one of the biggest crowd pleasers of 2009.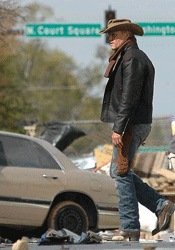 "Another first time director," Harrelson says.  "I don't know, I was a little concerned.  I looked at his reel and I see the Burger King commercial and I don't know, but [Sony Pictures chairman] Amy Pascal was the one who said, 'Yeah, he's the guy.'  Regardless, I couldn't have known until I first saw the film.
"When I was sent the script, I remember having like five scripts, and I'd read anything but 'Zombieland.' My agent keeps calling me and finally he says, 'Read that fucking script or I'm gonna fire you.'  It's like, 'Can you fire me?  Is that possible?' [laughs]  But I did read it and from the first page I was like, 'Hey, hold on.'  Zombie movies, usually they're really stupid.  I was glad to do it.  I thought Jesse [Eisenberg] was great, the girls were amazing to work with and then Rueben hit it out of the park."
Then there's Roland Emmerich's "2012," a disaster epic cranked to 11 that features Harrelson as a Yellowstone-lurking conspiracy theorist who, as it turns out, has all the answers to natural disaster Armageddon.
"I really enjoyed it," Harrelson says of the experience of working on an Emmerich film.  "He was fun and collaborative.  I had a bunch of zany ideas and he was open to them.  I worked like a week.  I think Roland Emmerich is a visionary, to be able to see all of those components.  He had it in his head.  I remember seeing storyboards.  Like I'm up on a constructed hill on a sound stage, surrounded by green screen, screaming out that last bit.  I don't know what I'm looking at.  So he goes over the storyboards and, you know, I thought it was great working with him.  I just hope I get a chance to do it again."
And he certainly has his thoughts on the potential doomsday of the date in question.
"My feeling is that, you know, the Mayan calendar does end on that date in 2012, as well as the Hopi calendar," he says.  "I think other native calendars, too.  So does that portend the end of the world or is it maybe something like, you know, some kind of important transition?  Because where we're at right now, we kind of need to transition off of this mindless consumerism."
For now, the actor finds himself, inevitably, in the Oscar conversation for his work in "The Messenger." But he can't invest emotionally in that, he says.
"Look, all that stuff is gravy," he says.  "It'd be wonderful, of course.  Any actor who says it wouldn't be is probably just full of shit.  But I do think that the movie itself is great, and I think that Ben Foster gives a stunning performance, as well as Samantha [Morton].  It's one of the most beautiful, potent scripts I've ever read.  And it's incredible how timely it is, int he sense that right at this moment when the movie is coming out, there's the question of sending 44,000 more troops.
"A lot of people have been thankful, saying that it's cool to see this because it humanizes the statistics.  Every single person, it just reverberates out, the ripple in the community is huge, from friends, and friends of friends, and family and everybody who was affected by [a casualty].  I think that's why people are responding positively to it."