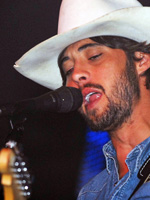 One of the first things I mentioned when I stumbled out of that dark theater on the Fox lot a few weeks ago, following a screening of Scott Cooper's last minute awards entry "Crazy Heart," was that I couldn't get the final song, "The Weary Kind," out of my head.  Today I'm happy to offer it up for your listening pleasure.
The song is prime material for the Best Original Song category because of its implementation in the film.  (MILD SPOILERS) Jeff Bridges's newly sober Bad Blake character, reflecting on his ups and downs and finally sitting down to pen a new tune, rattles through the chords and comes up with a powerful ditty for his former protege, Tommy Sweet (Colin Farrell).  Finally we get the full number in a concert sequence that leads into the closing credits.
In my opinion, this is the frontrunner of the category.  There are a pair of "Nine" songs on its heels, however, and who knows what turf the tracks from "The Princess and the Frog" will claim, but this stand-out from a wonderful soundtrack is sure to prove instantly moving for many.  Have a listen below (in an official version performed by Ryan Bingham, who co-wrote the song with T Bone Burnett).
[display_audio]