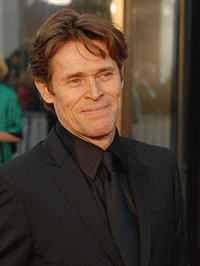 I have thought about little else since seeing Lars Von Trier's "Antichrist" at TIFF a few months ago.  The astonishing, beautiful images are in my head once a day, the performances have never strayed from my mind. At this writing I still do not know if I liked the film, but I do feel it is an important work of art that makes tough demands on the audience, as all fine art should.
The subject matter is difficult, the images tough, the well-documented graphic imagery very hard to watch, and the characters not particularly likable.  Yet I was drawn into the film.  I cannot remember in the history of the cinema a more profound portrayal of grief and all its agonies than what Von Trier has given us here.
This kind of brutally honest acting takes a great deal of courage, but Willem Dafoe has always been a brave actor, willing to do just about anything it takes to get to the heart of his characters. Twice he has been nominated for an Oscar, the first time for his doomed Elias in Oliver Stone's "Platoon," the second as Max Schreck, maybe a vampire, maybe not, in "Shadow of the Vampire."
In between he has given an array of superb performances, topped by his astonishing turn as the conflicted Messiah for Martin Scorsese in "The Last Temptation of Christ," one of the most controversial films of the 1980s. Dafoe has never shied away from playing dislikable characters, such as his hateful Bobby Peru in "Wild at Heart," but he can also be shockingly gentle, as we saw in "Tom and Viv." He is the complete movie actor: as comfortable in blockbusters like "Spider-Man" as he is in independent cinema such as "Antichrist." All he asks for is a challenge.
"I was surprised at the hostile reaction to the film at Cannes, because, I was at Cannes, and the screening I attended was a dream screening," Dafoe says in retrospect, phoning from New York where he is currently working on a play.  "The audience was attentive, they were there, they were interested, and then there is the review in Variety by Todd McCarthy who calls the film some terrible names, and I think with a guy like that, who has been around a while, he might have taken some time to think about what he was writing before he wrote it."
Indeed, Variety, like a number of other publications, tends to set the tone early.  Witness the same reviewer's dismantling of "The Road" out of this year's Venice fest, and the subsequent declarations that the film was "out of the Oscar race" as another example.  For Dafoe, it's the kind of knee-jerk thing that betrays a lack of proper consideration.
"It was an attack on Lars more than a review," he says.  "I think, with all due respect, that there a lot of knuckleheads writing about film, and I do not include you in that group, (laughs) but there are a group of film writers who seem to have contempt for anything they do not understand.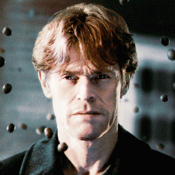 "I mean, come on, I know what you think of the film John, but we can have a conversation about it because you are informed and understand that Lars is an artist expressing something. Some critics tend to dismiss that, or worse, to punish and humilate the director. You don't like it fine, identify why, write with respect and move on to the next film."
Dafoe is angry at some of the reactions to Von Trier's film, which, despite being shocking and sometimes gruesome, is essentially a film about the staggering impact of loss on the psyche. In the film's hauntingly beautiful opening sequence, we watch Dafoe and his screen wife, Charlotte Gainsbourg, making love — rather graphically (though what love-making scenario isn't?) — while their child moves ever closer to danger, eventually falling out of a window to his death. Dafoe's character, a psychiatrist, tries in vain to lead his wife out of her depression, and instead they travel a dark road from which they will never return.
"I like Lars," Dafoe says.  "I like his movies.  I enjoyed working with him in 'Manderlay' and I wanted the chance to work with him again.  "The Lars the press knows is a very different man than the Lars I know.  I mean, he can be cutting, he can be sarcastic, but he has always been very warm and very friendly towards me, and as a director, he trusts his actors so much that we cannot help but place our trust in him.  It's always give and take."
"This film in particular was a very difficult project for him, and I don't think people fully realize just how challenging 'Antichrist' was for him. This film came out of anxieties, dreams and places deep inside of him that no one had seen before; he gave so much of himself to make this movie."
Von Trier's intention is to promote thought, Dafoe says.  The director's work "is not made to piss people off," he assures, and the notion that Von Trier is sensationalist for sensationalism's sake, or that he is "courting critical abuse," not to mention the notion that he should defend what he has put up on the screen, is absurd on its face, Dafoe says.
Even still — surely such detracting reactions weren't unexpected.
"I am sure he did expect a reaction," Dafoe says, "but not an irresponsible reaction. Again, it's not a film for everyone, it's not a film I am sure I like, but it is a film I am glad I made, a journey I am thrilled to have taken, because it's going to provoke debate, and how many movies do that these days?"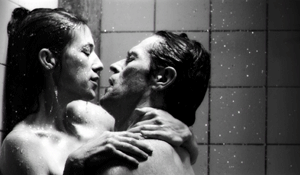 Dafoe was impressed with the manner in which Von Trier handled the actors and, in particular, the sexual scenes in the film, which are both beautiful and graphic.  Despite the intimate nature of the film's central relationship, however, Dafoe and co-star Gainsbourg remained strangers to an extent.
"[Von Trier] did not court associations on the set," Dafoe says.  "I did not know Charlotte and to this day I do not know her well. The first day on the set we were naked, kissing, fondling with Lars and his camerman moving around us, and rather than meeting the mark for the camera, he was following us.
"So the amount of trust between Charlotte and me was immense, but we didn't hang out after the shoot. We ate together a few times, with Lars, but he didn't really encourage an off-camera relationship, and that, for me, gave the film and the scenes a freshness.  There was little rehearsal time because of what Lars was going after, and I understood that. Why talk it to death?  Let's just shoot."
Dafoe brings up the perception of his character as arrogant, which he says surprises him.  The nameless character is certainly priggish, Dafoe says, but also desperate.
"He is grief-stricken at the funeral, but he is more the realist and he gets over it," Dafoe says.  "But she doesn't. And that is what the film is about: a deep, meditation of grief and the manner in which it sucks life out of you. I don't think, I can't imagine, though I can't speak for Lars, but I don't believe he was trying to say anything grand about humanity with the film. Plain and simple he was trying to tell a story."
Beyond the affecting themes of the piece, it goes without saying that performing in a Lars Von Trier film, certainly in "Antichrist," is a demanding task that takes considerable courage.  But for Dafoe, there are different types of courage.
"For Lars to have done this film when he was going through the hell he was suffering through was courageous, and to face the attacks he has faced, that is courageous," he says.  "Charlotte and I did our jobs.  I worked hard on that character. I have never been through therapy so Lars gave me some things to read and some things to see, but I also was able to attend some terapy sessions at Columbia Univeristy that really helped me understand the process. But you know even after all we went through to make the movie, I still don't know if I get this guy, and maybe that's how Lars wanted it to happen."
"Antichrist" is currently in limited release and is available via IFC On Demand.