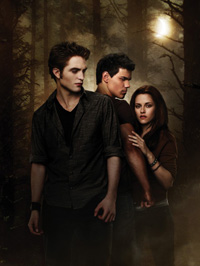 *All historical figures cited are adjusted to today's dollars.
Well, that happened.
"The Twilight Saga: New Moon" proved the franchise was no one-hit wonder by opening with $140.7 million over the weekend, breaking numerous records in the process. The $72.7 million pulled in on Friday is a new single day record, leaving "The Dark Knight" in the dust.
The November opening weekend record of "Harry Potter and the Goblet of Fire" is disintegrated. The two days Chris Weitz's film took to reach $100 million equals the fastest on record. The weekend figure is the fifth-biggest debut of all time and the per-theater average is the fourth-best for a film on over 4,000 screens.
All that is to say that the "Twilight" franchise has now aligned itself with the biggest and brightest of all box office stars. Any conversation that includes Batman, Spider-Man and Jack Sparrow must now include Bella and Edward.
While I'm sure the movie is terrible, I for one think this is great for two reasons. First off, any time a film can reach massive heights without appealing primarily to males aged 18-35, it's a victory for everybody. We all want diversity in the marketplace and success like this causes studio executives to shake up the way they think about audiences.
But let's also get something else straight here: You simply cannot make this amount of money by only appealing to one demographic. So pre-teen females may drive the box office but boys are going too. Men are going.
The second reason I'm apt to stick up for this film is because I find it a tad hypocritical that the same viewers who line up excitedly for films like "X-Men Origins: Wolverine" like to come on here and express their disgust at "New Moon." I can't see a single difference between the two and it seems to me that you either support big, dumb Hollywood entertainment or you don't.
Far more troubling to me is the massive success of Sandra Bullock's "The Blind Side." This is the epitome of lazy, manipulative, racist Hollywood bile and it walked away with $34.5 million this weekend. This is a positively blockbuster figure and with word of mouth bound to be positive, it may get close to $150 million before all is said and done.
You have to go all the way back to "Rocky IV" in 1985 to find an inspirational sports drama that debuted better and that's including hits like "Remember the Titans" and "Seabiscuit." Somehow, before 2009, Sandra Bullock had never opened a film over $26 million and she's now done it twice in five months. Somebody give that woman's agent a raise (and let's just pretend "All About Steve" never happened).
"Planet 51" simply couldn't compete with the other two new titles and had to settle for fourth place and $12.6 million. For computer animation, that's on the low end of the spectrum and the film should finish around $50 million. I swear to God I wrote the first five pages of a script with this exact plotline after seeing "Independence Day" at age 13. Only mine was a super serious drama and page five is where I realized that aliens wouldn't speak English and I couldn't figure out how to proceed. If only I still had the floppy disk I saved it on, I could cook up a lawsuit.
"2012" dropped 59%, as did most holdovers, which all wilted under the one-two punch of the weekend's top openers.  Regardless, the top 12 films at the box office have only combined to gross more on the weekend "The Dark Knight" opened. Batman accounted for 63% of that record tally, while "Twilight" hogs up only 57% of the gross this week, so movie-going in general is the winner here.
In limited release, "Broken Embraces" earned a typically robust $54,000 per screen for Pedro Almodovar. If it can reach the $10 million heights of "Volver" and "All About My Mother," then we can maybe start talking about Penelepe Cruz being in the race for Best Actress.
I forked over my $7.50 to "The Maid" and "Antichrist" this week. Sebastian Silva's domestic drama is almost assured a place on my top 10 of the year as it hit all the right chords for me, while the Lars Von Trier is a beautiful, gargantuan mess of a movie. Plenty of problems, but garish acts of filmmaking like this are why I go to the movies.
Michael Tully at Hammer to Nail sums it up best for me by saying the film "provides us with what we so desperately need in cinema, a full-throttle act of pure creative expression from a freakishly gifted mind."
What did you guys see this weekend? Any cinephiles out there man enough to admit seeing and loving "New Moon?" Here are the weekend's top domestic grossers, courtesy of Exhibitor Relations: