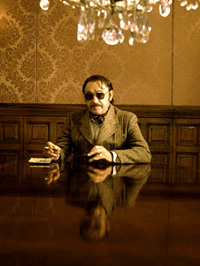 In one of the weakest years in memory, not just for performances but for great films, 2001 saw Denzel Washington and Halle Berry knock "two birds out with one stone," as the former declared on Oscar night, as two African Americans won the top acting prizes for the first time ever.  And it was difficult to argue with either.
Washington was superb in "Training Day," clearly loving his role as crooked cop Alonzo, walking the line without ever going over the top, blowing everyone off the screen. In many ways it was a make-up award for his having lost for "Malcolm X" in 1992 to Al Pacino's ranting work in "Scent of a Woman" and perhaps, though lesser so, for his loss for "The Hurricane."
Berry gave a raw, sexually charged performance in "Monster's Ball," one of such searing truth and rage you could never look away from the screen. Robert Duvall called her performance the finest by an American actress he had ever seen and was not the least bit surprised when she won the Oscar for Best Actress.
My question remains: Should Denzel Washington have won over the non-nominated performances of Gene Hackman in "The Royal Tanebaums" or the vastly under-appreciated Jack Nicholson in "The Pledge," one of his finest recent performances? Don't think so.
There was a lot of love shown to Tom Wilkinson for his heartbreaking work in "In the Bedroom" as well as Russell Crowe (again) for his performance in "A Beautiful Mind," which eventually won the Best Picture Oscar. I was very surprised that Sean Penn was nominated for his performance in "I Am Sam" because though I consider Penn one of the greatest actors in the history of the cinema, his work in that film represents one of the very few times I could "see" him acting.
Will Smith got nominated for a muted though fine performance in Michael Mann's "Ali," but you have to wonder why so many other great performances were forgotten altogether. Beyond Hackman and Nicholson, where was Guy Pearce in "Memento" or Ryan Gosling in "The Believer?"
Billy Bob Thornton gave a pair of fine performances in the Coen brothers' "The Man Who Wasn't There" and opposite Berry in "Monster's Ball," yet no nomination. I personally felt that Haley Joel Osment deserved a nomination for his haunting work in "A.I.: Artificial Intelligence," one of Steven Spielberg's most undervalued works, destined to be appreciated in the future, I suspect.
The Best Actress category was marred by the absence of Audrey Tatou in "Amelie," a marvelous French film that took the cinema world by storm.  What happened?
Nicole Kidman was nominated for "Moulin Rouge!" but could also have just as easily made it in for "The Others," a spooky, inventive ghost story. But how could they not nominate Thora Birch for "Ghost World," one of the greatest teen angst films ever made?
I understand the nominations for Renee Zellweger in "Bridget Jones's Diary" and the wonderful Sissy Spacek in "In the Bedroom," but I struggle with Judi Dench in "Iris" over some of the women I have just mentioned.
Gwyneth Paltrow was sadly absent again for her fine work in "The Royal Tanenbaums," one of the actress's best performances. From the same film Anjelica Huston could also have been nominated. Scarlett Johansson was wonderful in "Ghost World" and again in "The Man Who Wasn't There," while Carrie Ann Moss deserved some attention for her performance in "Memento" just as Cate Blanchett should have for her terrifying abusive mother in "The Shipping News."
Cameron Diaz was deserving for her nutty work in "Vanilla Sky," leaving me wondering again how Maggie Smith and Helen Mirren were continually noticed for performances we have seen before (in Robert Altman's "Gosford Park").
Long before he was winning award after award for "The Wrestler," Mickey Rourke reminded us what a fine actor he could be in "The Pledge" in a single scene that was absolutely powerful. That said there is little doubt that Ben Kingsley deserved to win Best Supporting Actor for his mobster-from-hell Don Logan in "Sexy Beast," simply one of the most frightening characters ever put on film.
I was sad to see the critics' darling Steve Buscemi in "Ghost World" snubbed by the Academy for weak work from, say, Jon Voight in "Ali" or Ethan Hawke in "Training Day." I have no argument with the nomination for Ian McKellan in "The Lord of the Rings: The Fellowship of the Ring" nor Jim Broadbent in "Iris," but there are so many others more than deserving.
Finally, Jude Law brought some of Malcolm MacDowell merged with Gene Kelly to his Gigolo Joe in "A.I.: Artificial Intelligence," while the great Peter Boyle was a vicious racist in "Monster's Ball" and deserved attention.
That's my perspective on the performances of 2001.  What about you?  Have your say in the comments section below!