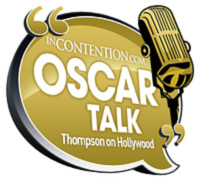 Welcome to Oscar Talk, your weekly kudocast featuring yours truly and Anne Thompson of Thompson on Hollywood.
On the docket today:
• Anne and I discuss the week's big Oscar news, the revelation of 15 short list contenders for the Best Documentary Feature category, including discussion of snubs, talk on those we've seen and some fleeting expectations on how things could shake out.
• With "That Evening Sun" making its way to limited release, we briefly touch on the film and Hal Holbrook's wonderful leading performance.
• The Governors Awards took place over the weekend, and Anne was in attendance.  She gives us some inside perspective on the festivities.
• Quentin Tarantino is back on the awards circuit with "Inglourious Basterds" facing an imminent DVD release.  We talk again about the film's Oscar chances and the potential for another populist film, "Star Trek," duking it out with the war romp for a spot in the 10.
Have a listen to this week's podcast below, with Lauren Bacall's Honorary Oscar acceptance speech leading the way.  As always, you can subscribe to Oscar Talk via iTunes here.
[display_podcast]