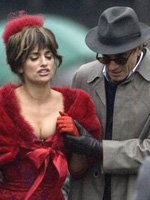 Rob Marshall's hotly anticipated movie musical adaptation "Nine" played before a jam-packed SAG Nominating Committee crowd at the Pacific Design Center Wednesday night, and judging by the response, we've got a real player on our hands.
Of course, one can never tell with these things.  Especially SAG Nom Comm, which tends to be a bit, shall we say, star-drunk when it comes to these seasonal screenings.  The evening's Q&A boasted most of the cast — Daniel Day-Lewis, Nicole Kidman, Kate Hudson, Judi Dench, Penelope Cruz and Marion Cotillard — so it was inevitable that standing ovations would occur.
But even still, given the mood of the crowd, I'd say they sincerely ate it up.  One guy even said the film was better than "8 1/2" (make of that what you will) before asking a question about Fellini when the session was turned over to questions from the audience.  And everyone was certainly in awe of the stars (or their careers, at the very least — gee, I'm cynical.)  It seemed that nary an opportunity to applaud was missed.
The biggest closing credit ovations, by my ear, in order of, I don't know, loudness: Sophia Loren, Judi Dench, Marion Cotillard, Penelope Cruz and Nicole Kidman.
The Envelope's Pete Hammond moderated the Q&A, which you can listen to below (nearly 50 minutes —  following some rumbling and setting up the stage, it kicks in maybe 30 seconds in).  He asks the requisite tame questions and then turns it over to the expected chaos of dubious and meandering queries.  Still, it's worth a listen.  There are insights here and there.
You can tell I haven't offered an opinion.  I haven't signed my life away like the New York junketeers did over the weekend, but I've agreed to respect the embargo regardless.  More soon, I'm sure.
Here's the Q&A:
[audio:http://www.incontention.com/audio/nine_sag.mp3]