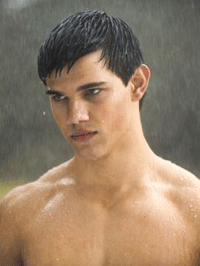 *All historical figures cited are adjusted to today's dollars.
It's Edward and Bella's world and we're just living in it. The film to beat for the Holiday season is "The Twilight Saga: New Moon" and fans finally got their chance to lay eyes on it tonight at midnight. Twi-hards have been lining up and breaking advance ticket sales records on Fandango so there's no question that the film will be big. But how big?
The original film opened just 52 weeks ago and earned a surprisingly huge $69.6 million. Prognosticators knew that the book had fans but there was little evidence to suggest a figure that size, particularly because new distribution outfit Summit Entertainment was the studio putting it out. The $36 million it took in on opening day was the 17th biggest Friday ever and represented more than half of the weekend take. If the fanboy rush was that big for the original, you can imagine how frontloaded the sequel is going to be.
Some sort of record will probably be broken this weekend as the film unloads on a massive 4,024 screens nationwide with round-the-clock showtimes. "Harry Potter and the Goblet of Fire" is the current November opening weekend champ at $115 million and that isn't totally out of the question. Neither is the $67.2 million opening day record by "The Dark Knight" completely safe, although I'm not quite bold enough to predict that big a Friday for Chriz Weitz's film.
Summit is trying to level expectations by announcing an $85 million weekend target but I think we are looking at $108 million and close to $250 million total by the time the year comes to a close. Not too shabby for a feature length adaptation of that pro-abstinence pamphlet I got in 7th grade with some vampires thrown in.
Warner Bros. tries to get Sandra Bullock an Oscar nomination with "The Blind Side," which will launch in 3,110 theaters. Middle aged white women have to be the target audience here and they love them some Bullock. I'm getting a real "We Are Marshall" vibe from this thing, but the box office comparison is unfair since the latter film opened over Christmas week. "Gridiron Gang" managed $15 million from a September 2006 start and that would be a decent result here, given the huge slice of the movie-going pie being gobbled up by the vamps.  I think it'll fall somewhere around $13 million and, God help us, ride good word of mouth to a $50 million total.
"Planet 51" is the only other new release, landing in 3,035 theaters. Sony Animation is coming off its biggest hit ever in "Cloudy With a Chance of Meatballs" but this reverse "Independence Day" looks like one of the more generic computer animated toons to see a release in the last few years. "A Christmas Carol" still has a lot of money to make so families have options and I don't see this one getting past $17 million this weekend.
Lionsgate continues the expansion of "Precious" and the film hit 629 screens this week so expect another $7 million weekend or so, as the film finds new markets to conquer.
What are you guys seeing this weekend? Anyone dare to think "New Moon" will make less than "Twilight"'s $69 million?