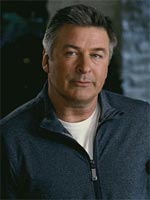 Since I made my first Oscar nomination predictions in early June, I've had a weird hunch about Nancy Meyers's "It's Complicated" being something of a surprise package in the race.
Now while I've known all along that Best Picture and Best Actress nods for the film were in the extreme wild-card class of prediction, a Best Supporting Actor nod for Alec Baldwin always felt comfortably right to me. Well-loved character actor, successful career reinvention, showy comic role in a probable December hit … all that's needed is for the performance to be terrific, and the work is done.
Over the months, Baldwin has crept onto more pundits' predictions lists, with the news of his Oscar hosting gig being taken as a good or bad omen from various angles. Now Jeff Wells quotes two industry insiders who've seen the film, and say Baldwin not only has a nom in the bag, but potentially even a win:
A non-vested writer-director guy told me this afternoon that he can "absolutely confirm" that Baldwin is the shit in Meyers' film and a prime candidate for Best Supporting Actor. A vested party who nonetheless tends to be blunt said Baldwin is "a lay-down hand for a nom, Jeff. And he could win. Total breakout performance. Bet on it."
The former (non-vested) party also raises the possibility of Streep being double nominee after all:
"It's a strong film and Universal will have a much-needed crowd pleaser. Meryl could be a lock as well for Best Actress, with the Julia Child performance being pushed for supporting."
Of course, it's just the word of two men for the moment. I'll save the "first" talk for when/if the Baldwin train gathers steam. Still, it's always nice to know one might not be crazy.