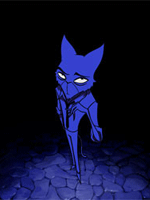 Via press release:
• "The Cat Piano," Eddie White and Ari Gibson, directors (The People's Republic of Animation)
• "French Roast," Fabrice O. Joubert, director (Pumpkin Factory/Bibo Films)
• "Granny O'Grimm's Sleeping Beauty," Nicky Phelan, director, and Darragh O'Connell, producer (Brown Bag Films)
• "The Kinematograph," Tomek Baginski, director-producer (Platige Image)
• "The Lady and the Reaper (La Dama y la Muerte)," Javier Recio Gracia, director (Kandor Graphics and Green Moon)
• "Logorama," Nicolas Schmerkin, producer (Autour de Minuit)
• "A Matter of Loaf and Death," Nick Park, director (Aardman Animations Ltd.)
• "Partly Cloudy," Peter Sohn, director (Pixar Animation Studios)
• "Runaway," Cordell Barker, director (National Film Board of Canada)
• "Variete," Roelof van den Bergh, director (il Luster Productions)
You can watch one or two of these on YouTube I think.  Anyway, thoughts?  Anyone?