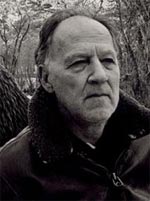 After premiering two films at September's Venice fest, perhaps the most surprising thing about Werner Herzog heading the jury at February's Berlin Film Festival is that he won't be inflicting another film upon the competition.
I kid, I kid. Herzog, the first German jury president since Roland Emmerich in 2005, is inarguably deserving of the position, and should bring a welcome streak of eccentricity to the jury's deliberations. The press release declares him "one of the most significant personalities of New German Cinema," which is risking understatement.
Interestingly, the 67 year-old auteur has only twice competed at the Berlinale himself, with his 1968 debut "Signs of Life" (for which he won a special award) and 1979's "Nosferatu."
You may remember that this year's Berlin jury was presided over by Tilda Swinton, with Peruvian film "The Milk of Sorrow" (currently in the hunt for the foreign-language Oscar) taking the Golden Bear. The festival's 2010 edition will run from the February 11 to 21 — I will hopefully be in attendance.
Meanwhile, Herzog's demented "The Bad Lieutenant: Port of Call New Orleans" opens Stateside tomorrow, and continues to win critical favor — its latest high-profile champion is Roger Ebert. I'd say something about the emperor having no clothes, but I'll save it for when the truly appalling "My Son, My Son, What Have Ye Done?" is released to inevitable fanfare.