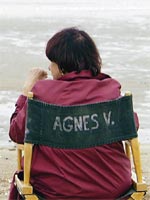 Perhaps inevitably, the bulk of online chatter about the Best Documentary Feature shortlist unveiled yesterday focused less on the films that made it, and more on those that didn't.
It's par for the course for the Academy's documentary branch to ignore a major title or two, but even by their severe standards, the list of high-profile snubs was a long one: "Capitalism: A Love Story," "Anvil! The Story of Anvil," "Tyson," "The September Issue," "We Live in Public," "It Might Get Loud," "Rough Aunties" and so on.
But for every blogger or commenter complaining about the dubiousness of the list, I can't fight the urge to ask whether or not they've seen all 15 titles that have been included. In these cases, it's always easier to say what should have got in than what should have been left out.
For my part, I think the list looks like a solid one. I'll admit upfront that I've only seen seven of the 15 contenders, but those that I have seen all strike me as richer, more creative works than, say, "Capitalism" — which is mid-strength Moore at best. I personally find it encouraging that a previous Oscar mainstay like Moore can miss when he isn't firing on all cylinders: at least we can't accuse the Academy of favoritism.
As for the rest, it's really a matter of taste: "Anvil!" didn't speak to me personally, while I found "We Live in Public" an overly prosaic take on a fascinating subject. Many, understandably, feel differently; clearly not enough Academy members fell into that bracket.
I had more admiration for "Tyson" and "The September Issue," both of which may well have been worthy of a shortlist spot — but until I catch up on eight unseen titles, I'm in no real position to say. And as sharp, tart and enjoyable as R.J. Cutler's portrait of Vogue editor Anna Wintour is, it's ultimately a less insightful and affecting study of the fashion industry than the shortlisted "Valentino: The Last Emperor," so it's hard to take too much issue with that omission.
Which brings us to the titles in play. And whatever qualms one might have about personal favorites that missed the cut dissipate in the face of pleasantly surprising choices like Greg Barker's "Sergio," a remarkably intimate and unorthodox take on the life and tragic death of Brazilian UN high commissioner Sergio Vieira de Mello, which impressed me at the recent London Film Festival.
Most delightful of all is the inclusion of French New Wave veteran Agnès Varda for her exquisite cinematic autobiography "The Beaches of Agnès," which won a César Award back in February, and could well land a few U.S. critics' honors in the months to come. One of the year's best-reviewed films, it's gently eccentric and often extremely funny — not virtues that are highly prized in this particular Oscar race.
That said, I'm willing to place a little bet that Varda's film will surprise a few pundits on nomination morning, and not just because she was robbed of a documentary nod a few years ago for the lovely "The Gleaners and I."
Just as Werner Herzog finally received his overdue first Oscar nomination this year, the documentary branch may welcome another chance to play catch-up with a legend of the medium. And in this banner year for filmmakers, how heartwarming (not to mentioning record-breaking) would it be to see the 81 year-old Varda at the Kodak Theater?
Many pundits have already declared the race a issue-driven duel between "The Cove" and "Food, Inc." for the win. They're probably right. But I do wonders (and hope) whether the superb "Mugabe and the White African" could put up a fight in the category. As I've written before, the film is a devastating account of the obscene human rights abuses tearing through Zimbabwe, a part of the world all the more topical for Hollywood's current fixation on Southern Africa.
Though both topical and important, it's the film's unavoidable emotional pull that'll help it most in the race: it's difficult to imagine anyone watching it and remaining unmoved. As such, it's the kind of film that'll benefit immensely from the Academy rule that requires voters in the documentary category to view all the films first.
Of course, though I don't think it's half the film "Mugabe" is, something like "The Cove" has the same advantage — but this category isn't locked up by any stretch.
Check out my revised predictions in the category here.