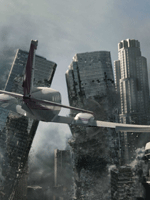 Thanks to Sasha Stone at Awards Daily for a pretty sweet find this Oscar season.
We are, of course, very proud of our dedication to the crafts categories via Gerard's Tech Support columns here at In Contention.  It's been a concentrated effort on our part to help carry the flag for folks who deserve as much credit this time of year as the major stars, yet don't receive it.
Fortunately, over the last two years or so, I've noticed a number of major outlets pumping up their crafts coverage.  It's nice to see the notion taking.
Anyway, over at SoundWorks Collection, a site "dedicated to profiling the greatest and upcoming sound minds from around the world and highlight their contributions," according to their literature, there is a great new weekly feature spotlighting the sound of various contenders throughout the season.
Next week's feature: "2012." Fascinating stuff.  Check out a promo reel for the Oscar contender profiles after the jump, as well as a video profile on the sound of "Up." Gerard's two stabs at analyzing the Best Sound Mixing category can be found here and here.