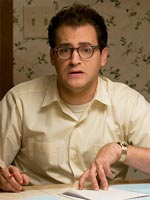 There seems to be a bit of uncertainty among several bloggers and commenters about the Golden Globe category placement of a number of titles. What it highlights, rather interestingly, is just how many heavyweight contenders straddle the line between comedy and drama this year.
For the record, then, the following films are all aiming to compete in the Drama races at the Globes: "Up in the Air," "An Education," "Inglourious Basterds" and "Crazy Heart."
"A Serious Man," however, is on the Comedy/Musical side of things. (Thanks to Tom O'Neil for confirming this.)
I'd say I agree with all these classifications except for that of "Basterds." Anyway. As you were.