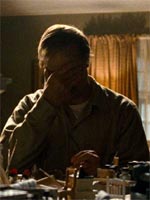 Okay, this story has been doing the round for a day or so, but I only got to it now. Let me say upfront that if you haven't read Alice Sebold's "The Lovely Bones," and wish to remain innocent of any major plot developments in Peter Jackson's upcoming film, stop reading now.
I mean it.
MAJOR SPOILER ALERT.
Still with me? Good. Those familiar with the novel will know that it ends with the heroine's rapist-murderer (to be played in the film by Stanley Tucci) falling to his death into a ravine, after being freakishly hit on the head by a falling icicle.
I always thought it a rather crass, unintentionally amusing resolution, but was at least grateful that Sebold refrained from something more lurid.
Peter Jackson obviously had the same idea, shooting Tucci's death scene as a quiet drop off the edge of a cliff, with no depiction of the bloody aftermath. That sounds like an elegant enough solution to me, but it was apparently not enough for the vengeful test audiences, who wanted to see him suffer.
Jackson's obedient answer to this was to return to the editing room, in order to dream up as grisly an onscreen death for Tucci as the film's PG-13 requirement would allow:
"We got a lot of people telling us that they were disappointed with this death scene, as they wanted him to see (the character) in agony and suffer a lot more," he said. "They just weren't satisfied."

Jackson said he and his filmmakers were perplexed because they had already shot much of the movie. They had to go back to the editing room and use digital effects to add shots where (the character) bounces against the cliff on the way down.

"We had to create a whole suffering death scene just to give people the satisfaction they needed," he said.
Am I the only person feeling depressed, and more than a little queasy, reading this? Are audiences today so stubbornly literal-minded that they need to see the graphic details of a death to feel the necessary release? Are these same people similarly uncertain over what happens at the end of "Thelma and Louise?"
Yeah, yeah, Tucci's character is bad, which apparently makes it okay for audiences to cheer the sight of a human body being dashed to pieces on the rocks. But "The Lovely Bones" professes to have more humane, spiritual concerns than visceral "Inglourious Basterds"-style revenge fantasy, so why indulge this kind of thinking? Jackson should trust his own instincts more.