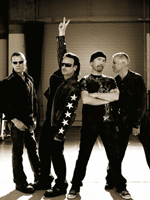 Last week when canvassing the various FYC sites that are hitting the web as of late, I misspoke (er, mistyped) when I disregarded the eligibility of a certain original song contender in this year's race.  Allow me to explain.
U2's "Winter" did indeed show up on Anton Corbijn's "Linear," a short film that accompanied the album "No Line on the Horizon" (which the band is touring vigorously across the US right now).  But I'm told the song was, in fact, written specifically for Jim Sheridan's "Brothers" and that it will indeed be eligible for consideration in the Best Original Song category.
The film has been completed for quite some time, mind you.  It took a while for it to secure distribution (though I have no idea why — it's a fine film).  MGM picked it up maybe a year ago, and over the summer, Lionsgate bought the film in a three-picture distribution deal.  So just because "No Line on the Horizon" has been in stores for a number of months doesn't mean "Winter" (which isn't an official track inclusion on the album, by the way) wasn't conceived far in advance of its release.
Sheridan and U2 go way back, of course.  WAY back.  They first met in the 1970s, when the director ran Dublin's alternative club the Project Art Center and bands like U2 were playing their first live gigs.  The original tune "Time Enough for Tears" was included in Sheridan's 2003 film "In America," but it unfortunately didn't make the Oscar cut.
"Winter" could be a different story.  And the lyrics certainly make it clear the song was conceived for the story of a man changed by a war (see below).
As for the film itself, well, I wasn't as impressed as Pete Hammond was, but I do think it fits nicely in what has become a great trio of Middle East war films this year.  I was less enthusiastic about Tobey Maguire's performance than I was by Jake Gyllenhaal's more natural portrayal.  In fact, it seems that every time I see Gyllenhaal in something, I'm reminded of how underrated he is as an actor.
The real story of the film, however, is the casting of Bailee Madison and Taylor Geare, two absolutely amazing young girls who knock it out of the park.  Much credit is due to Sheridan, of course, who has shown in the past his ability to get great performances out of children.  But these two ladies have talent to spare.  It was a really nice surprise.
I'll get into "Brothers" more throughout the season, I'm sure.  For now, take a look at the lyrics to "Winter" below.  We'll feature the song soon enough as we've been doing the other contenders in the category.
The yellow sun
Well it took the hand
Of a country boy
To a city in a far off land
We made no mark
No shadow at all
On the ancient holy streets
Where I learned to crawl
Looking at the bruised
The young and the used
The sure and confused all here
Words will land on me
Then abandon me
Mangle, untangle me
Leave me on the floor
Rhymes they sprang in me
Summer sang in me
But summer sings in me no more
Now I'm 25
and trying to stay alive
In a corner of the world
With no clear enemies to fight
It's hot as hell
We're like butter on toast
But there's no army in this world
Can fight a ghost
Looking at the bruised
The young and the used
The sure and confused all here
Words will land on me
Then abandon me
Leave me stranded
And knocking on the door
Rhymes began in me
Summer sang in me
But summer sings in me no more
At 21
I was born a son
And on that day I knew
I could kill
To protect the ones
Who put bullets in guns
Or anything it takes
To take a life until it's still