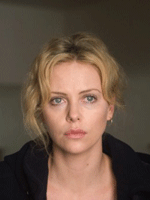 Leave it to a woman to understand the virtues of leading ladies on screen this year.
Yesterday we linked to Steven Zeitchik's join-the-misguided-masses piece on the "thin" Best Actress race.  I just got into this debate Monday night with another proponent of the theory (who has been similarly rebuffed here in the past).
The point I keep coming to is that, yeah, if everything is seen through the prism of what makes an Oscar contender (which is, frankly, such a manipulative pursuit it shouldn't be the gauge), then yeah, maybe a case can be made for a "weak" year for lead actresses.  But that does not necessarily translate to a dearth of quality work that isn't destined to be recognized during the awards season.
Of course I've made this point emphatically and in black and white before.  But it's oh so nice to read Women & Hollywood's Melissa Silverstein catching the point as well.
Writes Silverstein:
[Zeitchik's] piece goes on to say that there are many men jostling for those top five slots and if there were 10 nominations some would still be left out.

No shit.  Most movies, even the awards movies are made by guys for guys…

But what this story reminded me of is all the strong female Oscar worthy performances that don't ever make it onto the Oscar radar screen because they don't have wide enough distribution or get killed by the mostly male critical establishment.  Movies that star guys get distributed wider than movies by and about women.  So it makes sense to look beyond all the films getting the buzz to some who can't afford to mount Oscar campaigns or maybe even send out screeners.

Just because a film or a performance doesn't get included in the "buzz" doesn't mean it shouldn't be.
Silverstein goes on to rattle off 12 performances that deserve the fair shake they won't receive, including a few that weren't even on my brief item a few weeks ago.
Of course, this perception of a "weak" Best Actress field has already led to a couple of dubious stabs at the field from studios that smell blood.  First it was (almost) Vera Farmiga, then Maggie Gyllenhaal, and now, as Guy told you this morning, Melanie Laurent.
At this rate of exodus, it'll soon be the Best Supporting Actress race that is suddenly "weak."