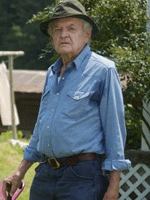 Over the weekend, "That Evening Sun" star Hal Holbrook took the Excellence in Acting award at the Starz Denver Film Festival over the weekend.  When the press release landed in my inbox, it reminded me that, while I've been a pretty strong proponent of Patterson Hood's original song from the film, I haven't written about Holbrook's performance all that much.
It's a beautiful piece of work.  Holbrook adds every ounce of texture, nuance, authenticity and depth that Clint Eastwood was woefully lacking in the similarly themed "Gran Torino" last year, but it's unfair to start with a comparison, I guess.  Holbrook nails ornery to a T, and he seems to be able to work the natural rhythms of southern conversation better than anyone other than maybe Robert Duvall.
Susan King recently talked to the actor, who said working on Sean Penn's "Into the Wild" gave him confidence.  And not to be SO 2007, but he offers some high praise for the actor/director in the piece.
Says Holbrook:
After a few shots you begin to realize that anything you do is going to be OK. Instead of retakes and retakes, he maybe will do one or two takes and then he would go like that [thumbs up] and go on. The little buzzing, faint quiet thing inside of an actor that always creates a little anxiety when you are creating a role, he took that right away because you realized he cast you and he trusted you.
There's another aside concerning a moment on the set of his first film, Sidney Lumet's "The Group" from 1965, as well as a funny anecdote concerning his future wife Dixie Carter and the film "The Girl from Petrovka."  It's a wonderful modest profile that may do the actor some good in this town, considering a film like "That Evening Sun" needs all the help it can get.
There's an unfortunate disconnect in the haves and have nots in a given awards season.  It's enough to make you want to boycott all of these frivolous festivities because great performances like Holbrook's (or Tom Hardy's, or Algenis Perez Soto's, or Souleymane Sy Savane's, or Sam Rockwell's, or Sotigui Kouyaté's, et…friggin'…cetera) are so often overlooked this time of year, while big budgets and heavy media access rules the day.
But ain't it always the case?
Maybe enough people will see Holbrook's work and he'll get a fair shake.  He certainly had a nice little brush with the season two years ago, but isn't an actor like this worth a bit more than a supporting actor also-ran once upon a time?