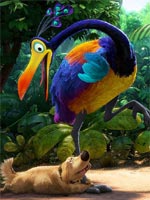 As with the PGA's switch to 10 Best Picture nominees, the 'Simon Says' power of the Academy continues to prove irresistible. Shortly after definite confirmation that the Oscars will be expanding the Best Animated Feature category from three nominees to five, comes news that the Golden Globes are following suit:
Members of the Hollywood Foreign Press Association voted last week to expand this year's number of nominations for Best Animated Feature to five.

The amended rule now reads: Eligible films must be feature-length (70 minutes or longer) with no more than 25% live action. If less than eight animated films qualify, the award will not be given, in which case the films would be eligible for Best Picture. If less than twelve animated films qualify, the category will be limited to three nominations per year.
Banner year for animation or not, would this announcement have been made had AMPAS not made the initiative? Unlikely. Am I the only one wishing the season's precursors would prove themselves a little less suggestible, and stick by their own rules?
Anyway, the real horror in that press release is the ruling (instigated in 2006) that animated films are ineligible for the Best Picture award as long as the Best Animated Feature award remains intact. The Academy may ghettoize animation, but it doesn't explicitly preclude it from the main race. For shame, Hollywood Foreign Press.