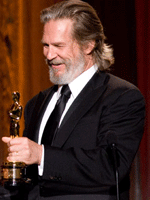 So yeah, I cropped poor Gordon Willis out of the photo to end up with the image to the right here, but I can't help wondering whether it'll be a familiar sight come March 7.
Of course, some folks have their panties in a twist at the gall of predicting winners this early, so I won't go there again.  But it really does feel like things are going to go Bridges's way this Oscar season.  It's all just…too difficult to argue with.
Jeffrey Wells recently saw the film in New York and is on board.  Steve Pond, Anne Thompson, Gregory Ellwood, Patrick Goldstein, there is little resistance.  No one likes an obvious race, but let's call it what it'll likely be: a Jeff Bridges victory lap, ebbing and flowing waves of applause for Duane Jackson, Lightfoot, Kevin Flynn, Terry Brogan, Preston Tucker, Jack Lucas, Max Klein, The Dude, Jackson Evans, Charles Howard, Ted Cole and finally, Bad Blake.
Of course, as David Poland hints, another category switcheroo (or voters deciding to go against a studio campaign's grain, as they did with Kate Winslet last year) for Christopher Plummer is potentially the biggest threat to said victory lap.  Some might say George Clooney and Morgan Freeman, despite very recent Oscars for supporting performances, are due for lead recognition.  Fine points all.
I'm just sayin'…
My lead actor analysis felt a bit uneven, somehow incomplete, in fact, a few weeks back.  Ever since "Crazy Heart" landed, things have just felt a little clearer.  And an image like the one above?  Feels right.