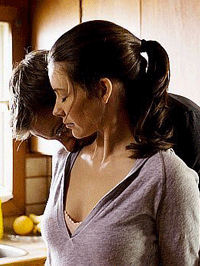 When I had the unmitigated gall last week to project a set of winners for this year's Oscar race, I was a bit startled at how easy Mark Boal's script for "The Hurt Locker" slid into the Best Original Screenplay slot.  Looking over the landscape of contenders in the category, it's a little obvious why such a somewhat non-traditional entry would be pegged as a frontrunner: this is a pretty thin year for original screenplays.
That should take nothing away from Boal's work, which is certainly commendable.  But beyond Pixar's "Up" (penned by Pete Docter and Bob Peterson) and the Coen brothers' "A Serious Man" (my pick for best-in-show in the category), there isn't much competition for Boal's play at the statuette.  I even find myself struggling with two more solid bets for nods after that trio.
Fox Searchlight, however, is making some pretty strong moves on behalf of "(500) Days of Summer," written by Scott Neustadter and Michael H. Weber.  The pair has already been cited by the Hollywood Film Festival as well as the Hamilton Behind the Camera awards.  Given the studio's campaign prowess (and the undying spirit of the film's champions), it makes sense to expect a spot to be reserved for the film here.
To fill out the set, you've got a slot that is undeniably up for grabs.  So let's dig into the field and see what we come up with.
For my money, there are four contenders that should be in the conversation, but aren't likely to tickle the Academy's fancy.  The first is Lars Von Trier's "Antichrist," a potent blend of catharsis and horror that resonates for some, disgusts others.  Anna Boden and Ryan Fleck's "Sugar," meanwhile, landed too early to register for awards season, but still surviving as one of the year's best films (in a great year for cinema), it's difficult not to concede the script its props.
Then there is Brock Norman Brock and Nicolas Winding Refn's "Bronson," a brilliant, mad chamber piece of a sort that is more a showcase for Tom Hardy's blistering portrayal than anything else.  And there is a concentrated effort afoot to get some notice for Hardy (things curiously showing up on my doorstep lately, his name finding its way into conversations, etc.), but the artistry and the structure of the script deserve commendation.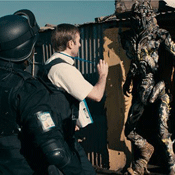 Finally, Duncan Jones's "Moon" is a brilliant film that likely won't get a fair shake this season, and that's fine.  I'm content knowing that a modest little sci-fi piece such as this can be modestly put together, have a profound thematic impact and add fuel to the fire for Sam Rockwell's case for more leading man parts.  A nomination here would be a perfect tip of the hat to a pretty good year for the sci-fi genre.
With those titles out of the way, let's look at the scripts that do have a fighting chance.  And speaking of sci-fi, there are a pair of films that could slide in despite genre bias.
The first is Neil Blomkamp and Terri Tetchell's "District 9," which made a big impact at the box office this summer and left many wondering if it could play a hand in awards season.  Like "Moon," the film features a brilliant leading turn and a script that is actually about something beyond the eye candy on-screen.
Meanwhile, James Cameron's "Avatar" (talk about eye candy) is going to be right there in the mix.  Cameron did not receive an Oscar nod for penning 1997's "Titanic," though the WGA certainly saw fit to tip their hat his way.  It's left to be seen whether "Avatar" has enough substance to warrant discussion here, but an eye should certainly be kept on it here, in a weak race.
Indeed, it might be the weakness of the field that allows for lesser work from Quentin Tarantino to slide in, as "Inglourious Basterds" is still chugging along, has a home video release on the way next month and is the only original screenplay contender in The Weinstein Company's stable.  Or Jane Campion, whose "Bright Star" was a critical darling but faded almost instantly.  This could be a place where passionate voters make their case.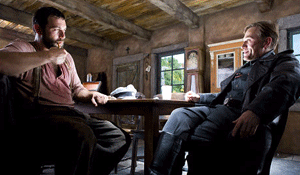 Foreign films aren't generally eligible for WGA consideration, so a blind-siding nomination for Michael Haneke's "The White Ribbon" is certainly possible come January, or perhaps comedy will tickle the Academy just enough to vote Nancy Meyers into the field with "It's Complicated" (starring Oscarcast co-hosts Alec Baldwin and Steve Martin).
There are auteurs offering up work considerably below the bars they've set (Woody Allen and "Whatever Works," Pedro Almodovar and "Broken Embraces"), as well as indie hopefuls that could make an unexpected splash, like "Frozen River" and "Away from Her" in years past (Guillermo Arriaga's "The Burning Plain," for instance, or Alessandro Camon and Oren Moverman's "The Messenger," both extremely deserving).  But mainly, it's a modest, uncompetitive race for five slots.  And of course, it's difficult to get too excited when profound works like Ramin Bahrani's "Goodbye Solo" won't make it within earshot of the conversation.
You can check out my picks in this week's updated sidebar predictions and read through the field of hopefuls yourself over in the Contenders section.
What would you say the frontrunners are in this year's Best Original Screenplay category?  Have your say in the comments section below!