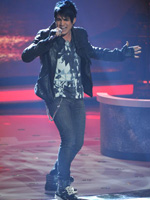 Okay, it's a stretch under the new voting scheme to think that Adam Lambert's closing credits track "Time For Miracles" from Roland Emmerich's blow-stuff-up-good entry "2012" would be an Oscar contender, but with the film hitting theaters over the weekend (and with the just-announced news that another big sci-fi entry will have an original tune in the mix) I thought it would be worth it to showcase Lambert's first single, as we've been doing the rest of the year's Best Original Song contenders.
And let's face it — 10 years ago, this would be a sure-fire nominee.  And speaking personally, it's somewhat nostalgic for that.  It has that epic, Diane Warren-like scope of songs like "I Don't Want to Miss a Thing" and "How Do I Live."  Cheese-fests, sure, but guilty pleasures are allowed in this life.
The track was written by Alain Johannes and the late Natasha Shneider, each formerly of the Los Angeles indie rock band Eleven.  It's positioning in the film is clearly a liability, but it's the kind of thing that would most certainly grab more ratings for the Oscarcast, should it find itself in the mix.
Have a listen to the song below, which we featured less formally a few weeks back, and tell us what you think.
[display_podcast]