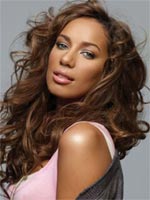 Chalk up another contender for Best Original Song. British pop diva Leona Lewis is to sing the (presumably multi-octave-scaling) theme song from James Cameron's "Avatar."
Best known Stateside for her megahit "Bleeding Love," the 24 year-old chanteuse rose to fame as the 2006 winner of "The X Factor," the UK's "American Idol" equivalent — thus making "Avatar" the year's second sci-fi blockbuster (after "2012") to turn to a reality-show star for musical duties.
Empire reports that Lewis is currently shooting the video for the song, a James Horner-penned closing-credits effort titled "I See You (Theme from Avatar)."
If this all sounds a little 1997, I guess that's the idea. Lewis is, after all, a latter-day answer to Celine Dion, whose ubiquitous Oscar-winning theme for Cameron's last film — what was the title again? — was part and parcel of its success. (Of course, times have changed since then, and the Academy looks a lot less kindly on closing-credit tracks these days.)
Anyway, I rather dig this nostalgic approach … when was the last time a Best Song nominee had a "Theme from" subtitle in brackets, anyway? And as uncool as this is to admit, I have a soft spot for Lewis — if "I See You" in any way matches the grandiose pop genius of "Bleeding Love," it'll be inescapable over the next few months.
That this news should land the on day Lewis's sophomore album "Echo" drops is entirely coincidental, of course. (Meanwhile, as commenter Aleksis reminds us, a track from the album has just been chosen as the theme for the latest Final Fantasy game. Between that and "Avatar," is Lewis now the geeks' diva of choice?)