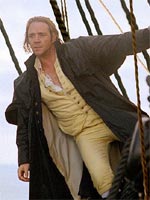 Between now and December 31, we're probably going to read more "best ____ of the 2000s" lists than we know what to do with. But we like lists, don't we? And this only happens once every 10 years. Let's not get blasé already.
So with the floodgates already open on "films of the decade" talk, there's plenty more to fuel the discussion. Paste Magazine has a nicely balanced Top 50 that puts "City of God" in pole position, and wins extra cinephile points for putting Claire Denis alongside Peter Jackson in the top 10.
Meanwhile, The Times supplements their own collective with a (impossibly formatted) selection of Top Tens from assorted British industry figures, including Julian Fellowes and Richard Eyre. "An Education" scribe Nick Hornby wins top marks from me for a list that includes "Lantana," "The Beat That My Heart Skipped" and "I'm Not There."
But for my money, no list I've seen so far is as rich and well thought-out as Telegraph critic Tim Robey's personal Top 100 — a corrective of sorts to the "films that defined the decade" list he compiled with his Telegraph colleagues, which took some flak on the web, these pages included.
Admittedly, Tim is a friend of mine — but I see no way anyone's life wouldn't be bettered by watching these 100 titles, though perhaps not in one sitting. (Needless to say, "Mamma Mia!" and "Saw" are nowhere to be found.) Four 2009 titles make his cut, the highest-ranking of which is "A Prophet" at #15. Others include the female-directed trio of "The Hurt Locker," "Bright Star" and "White Material" … have you worked out yet why I love this list?
Seriously, like all the best individual lists, it tells you as much about the critic himself as it does about the decade. All in all, it gives me much to chew on (and a few extra titles to see) before I tackle my own list. (All I know right now is that my current #1 isn't on it.)
For Tim's full Top 100, click here; his top 10 is listed below.
1. "Mulholland Drive" (David Lynch, 2001)
2. "Master and Commander: The Far Side of the World" (Peter Weir, 2003)
3. "The Death of Mr. Lazarescu" (Cristi Puiu, 2005)
4. "There Will Be Blood" (Paul Thomas Anderson, 2007)
5. "The New World" (Terrence Malick, 2005)
6. "demonlover" (Olivier Assayas, 2002)
7. "Yi Yi" (Edward Yang, 2000)
8. "INLAND EMPIRE" (David Lynch, 2006)
9. "Junebug" (Phil Morrison, 2005)
10. "Synecdoche, New York" (Charlie Kaufman, 2008)