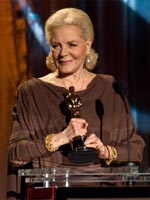 For those of us not important/famous/rich enough to have attended last night's honorary Oscars presentation, the Governors' Awards — tickets began at $350, apparently — Steve Pond has a comprehensive report of the proceedings, complete with pictures and some gossipy details.
I've complained before about the Academy denying us Joe Public movie fans the chance to see industry titans Lauren Bacall, Gordon Willis, Roger Corman and John Calley finally take a trip to the Oscar podium, but what's done is done. And to go by Pond's account, the upshot for them (if not for us) is that they got to bask in the spotlight for longer than the main ceremony would have allowed — though Calley was, unfortunately, too ill to attend.
Indeed, despite featuring only four award presentations, the night ran for three-and-a-half hours, the length of most Oscarcasts. Still, despite some organizational hiccups, a good, relaxed time seems to have been had by all.
Obviously, the presentation that most people would have wanted to see televised was that for Lauren Bacall, given her old-Hollywood star quality and propensity for salty quips. It seems she didn't disappoint. Following tributes from Annette Bening, Kirk Douglas and Anjelica Huston, Bacall took to the stage:
"Heaven, I can't believe it," she said, inspecting the Oscar statue. "A man at last."

She paid tribute to Bogart, Gregory Peck, John Huston and other co-stars and directors, and then said she was also grateful "for the fact that I'm still alive." A pause, and a wicked gleam. "Some of you are surprised, aren't you? Nevertheless, I'm here to stay, and you'd better get used to the idea."
Maybe it's just me, but wouldn't that have made a nice telecast moment? Oh, well. Bacall strikes me as an ideal candidate for honorary Oscar recognition, given that she's a vital and iconic star, with any number of classic screen moments to her credit, but not the kind of actress who delivered truly field-beating performances.
I've always been grateful that the Academy passed on the chance to hand her a lazy gold-watch award on her lone nomination, for the wretched "The Mirror Has Two Faces," almost 13 years ago. (Not least because it meant we'll forever be able to call Juliette Binoche an Oscar-winner, which probably couldn't have happened any other year.)
As great an upset as that was at the time, this is a far more appropriate way to honor her. I'm glad she now has a statuette to call her own.
Gordon Willis, on the other hand, really should have a competitive Oscar on his mantelpiece, making his award last night a different kind of overdue. Indisputably one of America's greatest cinematographers, with a CV that includes "Klute," "All the President's Men," "Pennies From Heaven," "The Godfather" trilogy and no fewer than eight collaborations with Woody Allen, his is a name that has doubtless been weighing on the Academy's conscience for some time.
What is curious about Willis's history with the Oscars is that his two (yes, only two) Oscar nominations were both catch-up nods for secondary echoes of more iconic previous work. Amazingly, despite both films' huge nomination totals, he wasn't listed for either of the first two "Godfather" films, yet he made it in for the third installment in 1990. (The 1974 snub must have been particularly grating — losing out to "Cabaret" is one thing, "The Towering Inferno" is quite another.)
Perhaps even more astonishingly, his exquisite B&W lensing for Allen's "Manhattan" also went unacknowledged, only for him to garner a nomination for his third monochrome Allen effort, "Zelig," four years later. And nothing for "The Purple Rose of Cairo," either … like I said, a curious history.
Anyway, let's be grateful the Academy has at least semi-righted that particular wrong. Fellow veteran DP Caleb Deschanel and Jeff Bridges did the presentation honors, which apparently included a "remarkable" montage of Willis's work. There's something else I'd have liked to see. (Sorry, I'm still sulking.)
Roger Corman, meanwhile, represents the kind of honorary Oscar winner who would never get rewarded any other way, so kudos to the Academy for thinking a little outside of the box here. It sounds like the trash-cinema master's presentation was the most entertaining evening, featuring variously anecdotal and/or profanity-ridden toasts from Ron Howard, Quentin Tarantino and Jonathan Demme:
Film clips followed (no doubt the first time that the likes of "Attack of the Crab Monsters" and "The Wasp Women" were seen on an Oscar-related show), and then a typically energetic and entertaining rant from Quentin Tarantino, who lauded the films that, he said, "show the sensibility and the f—ing coolness of this man."

"Needless to say, I'm delighted to accept this Oscar," said Corman, who went on to praise cinema as "the only truly modern art form," and salute independent filmmakers in particular: "I say to you, keep gambling, keep taking chances."
John Calley, the night's Irving Thalberg Award winner, is probably the least familiar name of the four honorees to most film-lovers, but his industry clout is evident in the roster of people Pond reports took part in his presentation: Tom Hanks and seven previous Thalberg winners, Steven Spielberg, Warren Beatty, George Lucas, Norman Jewison, Dino de Laurentiis, Saul Zaentz and Walter Mirisch.
A veteran producer whose credits run the gamut from 1965's "The Cincinnati Kid" to 1993's "The Remains of the Day" (for which he received his lone Oscar nod) to this year's "Angels & Demons," he's a worthy Thalberg honoree. What a shame he couldn't attend.
Check out Pond's full report here. More pictures and tidbits at the Academy's official site here.