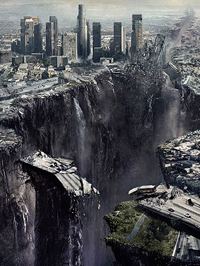 *All historical figures are adjusted to today's dollars.
Roland Emmerich's still got it. And by "it," I mean the ability to make blockbuster hits out of the same movie again and again.
"2012" opened at the top of the box office with $65 million and the seventh-biggest opening of 2009. It's also the 10th-biggest November opening of all time, sliding in between last year's "Quantum of Solace" and 2002's surprise juggernaut "8 Mile."
Mid-November releases have the benefit of the highly lucrative Thanksgiving holiday coming somewhere around their second or third week, so "2012" has the chance to earn three times its opening, which certainly wouldn't be the case in the summer. I actually don't think it will be the case here either and I think we'll see it top out around $150 million. While that figure is less than the production budget, the film has already made $225 million worldwide after just three days, so Emmerich has free reign to make whatever disaster movie he wants next.
Destroying the Earth four times is probably the limit for any director but luckily for Emmerich, we just discovered water on the moon, so he can go ahead and make a movie where we've colonized it and are living there, but for whatever reason it gets destroyed.
"A Christmas Carol" stuck to the script by dropping a slim 26% and sets itself up for a solid run through the next six weeks. With this and "Beowulf" under his belt, it seems Zemeckis is slowly mo-capping his way through my 10th grade honors English syllabus. I think we can expect a 3D version of "A Doll's House" sometime in 2011.
"The Men Who Stare at Goats" wasn't quite so lucky and dipped 51% to $6.2 million. Clooney may be the biggest star in the world but he hasn't made a truly popular movie without "Ocean's" in the title since "The Perfect Storm" in 2000. Is "Up in the Air" the film to break his $100 million duck?
Lionsgate's "Precious" added 156 screens and earned a whopping $6.1 million to take fourth place. It's not quite as impressive as the $7.9 million that "Paranormal Activity" made on 160 screens five weeks ago, but it's still a jaw-dropping figure. This was no one week, metropolitan wonder, and there's no better currency in the awards game than this kind of crossover success.
"The Fourth Kind" and "The Box" each fell around 60%, which is par for the course with this genre that surely produces more forgettable titles than any other.
"Pirate Radio" earned a decent $2.9 million from 882 screens but it wasn't good enough for the top 10 so don't expect Focus to do anything but let it slowly slip out of theaters.
In limited release, "Fantastic Mr. Fox" lived up to its title by grossing $260,000 on four screens, while "The Messenger" earned a very respectable $50,000 on the same amount. The former will expand significantly, while the latter will take it slower, but each remains a box office winner and awards prospects look good for now at least.
I did some catching up viewing this week and plopped down $7 for "Coco Before Chanel" and $10 for "An Education." I thought the former started strong but got significantly less interesting as it went along. Fine supporting performance from Benoit Poelvoorde though.  The latter, meanwhile, has a couple of stand-out moments but ultimately didn't do much for me either. Most of the things worth learning in this education were reduced to montages and the entire last 15 minutes were characters explaining all the valuable lessons they learned during the previous hour and a half. Not how I like my flicks. Mulligan is obviously great but where's the love for Rosamund Pike? She was genius.
Were you in the masses for "2012?" What did you see this weekend?  Here are the weekend's top domestic grossers, courtesy of Exhibitor Relations: