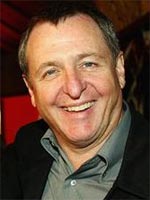 As a former Fox chairman with a background in marketing, it's unsurprising that Tom Sherak, who recently replaced Sid Ganis as president of the Academy, wants to bring a more populist approach to the Oscars.
In this LA Times interview, he makes it clear that the primary objective of the move to 10 Best Picture nominees is to get more blockbusters into the race — having himself voted for "The Dark Knight" last year — but admits that they may not succeed:
The point of it was to do something … We need to not be afraid to try things. We need to be positive. The people who are against the idea say, 'What if it doesn't work?' Then we won't do it again.
I find myself increasingly annoyed at the now-common implication that The Ten won't have "worked" if a "Star Trek" or an "Avatar" doesn't make the cut, a line of thinking that seems to cynically undermine the artistry the Oscars claim to stand for. If ten film smaller or more prestige-focused  films make up the nominees (as I think is more likely to be the case), it's insulting to imply that would constitute a failure.
When the announcement was made in June, Academy spokespeople expressed the hope that this would open the door for more commercial and animated titles, as well as more independent, foreign-language and documentary cinema, but it seems only the first two labels are really on their minds. (It's also suggests a short memory on their part, taking into account only really the last two years of Oscar voting: "The Lord of the Rings" and "The Departed" weren't that long ago. Don't panic.)
I digress. Anyway, even if Sherak has no control over what films will compete on Oscar night, he's determined to make the show itself more accessible to the general public. Though this year's ceremony was adored by many, it seems Sherak agrees with me that it was a little too smug and insular:
We're putting on a show, and that has to translate to millions and millions of people. I think what happened last year is that the show inside the Oscars, inside the Kodak, was incredible, but at home it played differently. We have to make it more fun.
The return to a comedic emphasis, as indicated by the selection of Alec Baldwin and Steve Martin to host, is presumably part of his plan, which is more than fine by me. (The interview reveals that the decision to have two hosts was largely Sherak's idea.) Beyond that, he doesn't offer many clues as to what his "more fun" Oscar model might entail, though he tosses in a token reference to the texting, Twittering youth audience.
My guess is that this is a lot of talk, and the show won't be noticeably different from the way it's always been. But then, for those of us who care about them, when have the Oscars not been fun?